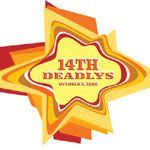 The performers for the 2008 Deadly Awards have been announced and what a night it promises to be.
The Deadlys – the national Aboriginal and Torres Strait Islander music, sport, entertainment and community awards, is renowned for showcasing only the best in Indigenous talent and this year will be no exception.
The 2008 line-up includes the who's who of Indigenous entertainment featuring Jessica Mauboy, Ursula Yovich, Gurrumul Yunupingu, Georgia Corrowa and Microwave Jenny.
The Deadlys presents a unique opportunity to see these sought-after performers brought together on the one stage for the first time ever, for a glamour-filled event.
Since first breaking onto the Australian music scene with Australian Idol, Jessica Mauboy has gone from strength to strength, this year has seen her record her solo single, Running Back with hit US Rapper Flo Rida. The song, written by Jessica, will be released on her upcoming solo album, Been Waiting. The album has also seen Jessica team-up with the very talented Israel Cruz, Audius and Adam Riely.
An actor in the upcoming Baz Lurman film Australia, Ursula Yovich has had the sort of year that most singers only dream of. Apart from her role in the much-anticipated film, she has been chosen as one of a handful of acts to perform at the famous Carnegie Hall in New York. Along with the Adelaide Symphony Orchestra she will be performing as part of the G'day USA: Australia Week celebrations from 12-20 January 2009. Other Australian stars that will feature in the concert include our very own Gurramul Yunupingu as well as David Campbell, Lior and Gabriella Cilmi.
In 2008 Gurrumul Yunupingu (former singer with Yothu Yindu) received well-deserved recognition as an artist in his own right. Following on from the successful launch of his solo album, Gurrumul, he has toured nationally to critical acclaim. Blind from birth, the Yolngu singer/songwriter has received nominations in three categories at the 2008 Deadlys as well as nominations in four categories at the 2008 ARIA Awards.
A third-year student at the Aboriginal Centre for Performing Arts, Georgia Corowa is already proving she has what it takes to make it in the music industry. Her debut performance at the Women in Voice Concert in July of this year, alongside such veteran performers as Katie Noonan, Pearly Black, Lil' Fi and Liz Buchanan received critical acclaim from both the public and press alike. Georgia also received recognition for her role in the Leah Purcell directed production of Reflections about the 1967 referendum.
As one of only a handful of acts selected to perform at the prestigious Play the Music Showcase at APRA's Song Summit in Sydney, Microwave Jenny are proving they have what it takes to make it as Indigenous singer/songwriters. The upcoming folk/jazz duet consists of Brendon Boney and Tessa Nuku who met in their latter years of high school. Drawing influence from artists such as James Taylor, Bill Withers, Van Morrison, Janis Ian and Joni Mitchell; Microwave Jenny are known for their good vibes and positive spirited music with honest, sincere lyrics and contagious melodies.
For more information visit www.vibe.com.au/deadlys or grab this month's issue of Deadly Vibe magazine.
Tickets for the 14th annual Deadly Awards, to be held on Thursday, October 9, at the Sydney Opera House Concert Hall, are now on sale from the Sydney Opera House box office.
Call 02 9250 7777 or go to www.sydneyoperahouse.com
For all media enquiries, please contact Alison Turner on 02 9361 0140 or 0400 385 984 or
email [email protected]