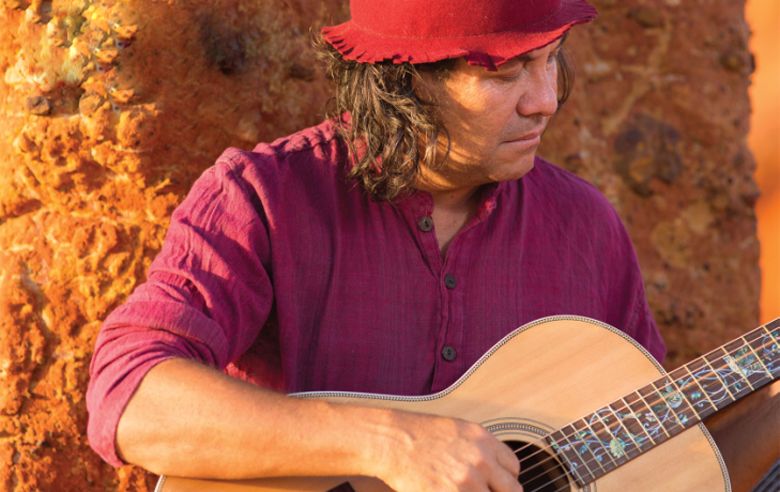 Stephen Pigram lead singer of The Pigram Brothers has recently released his new solo album, Wanderer.
The album is an almost all acoustic recording produced by longtime associate and member of the Dingoes, Kerryn Tollhurst.
Stephen has returned to his musical roots for the album and cites being sent to a school in Perth as the beginning of his journey with music.
"I feel like I've done a full circle musically, and coming back to doing a solo album is how I started when I was 15 – 16 completing my school stuff," he says.
"The blues was a big revelation and when I discovered how to read music, I started to crack the codes of the songs and that sent me on the road to wanting to play music.
"I've come back to that very first time where I enjoyed playing the guitar and writing songs."
He has been part of bands The Kuckles and Scrap Metal but his biggest claim to fame and catapult into mainstream music is writing the score for hit film and play Bran Nue Dae as part of The Pigram Brothers.
"As far as musical theatre goes, it was definitely a first. Up until then we'd played in bands in hotels and the pub circuit but that was the first time we got to really showcase our music in 1990," he says.
The title track of Stephen's new album is currently sitting at number one on the Deadly Sounds Chart countdown and a reunion of one of Australia's favourites, Scrap Metal may even be in the works.
"We started in '83 after I came back from Adelaide and that was 30 years ago so we're talking about having a reunion concert to tie up a few loose ends," he says.
"Nothing's concrete yet; we're just talking about it."