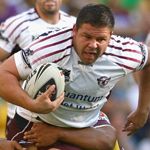 This Manly Sea Eagles and Indigenous All Stars prop is already on track to achieving all the health and sporting goals he's set for the year.
STATISTICS:
Height: 187cm
Weight: 115kg
Age: 27 years on 13 March
Mob: Gamilaraay (North West NSW)
Positions: Forward/Prop
Nicknames: "Gorgeous George" or "Rosey"
Siblings: 3 brothers and 2 sisters
How long have you played Rugby League for?
I've been playing since I was four. That's when Mum and Dad took me down to play for the Walgett Dragons.
How did you get involved in the sport?
My dad and older brothers played, so it was a natural progression.
What do you love about league?
The competitiveness of the game, plus in my position I get to test myself out against some of the biggest guys in the NRL.
What is your best sporting attribute?
I like to think I'm one of the few traditionally shaped forwards left in the game: a bit cuddly but powerful enough to work it to my advantage.
Why do you think you made first grade?
I made my debut at the Roosters, but it wasn't something that came overnight; it took a lot of hard work, time and effort and I had to stick to my goals.
What does an average training session involve?
Our training days are usually split into four different sessions, which include speed work, weights, skills and game-simulation drills followed by cardio or wrestling.
What's your favourite form of training?
Definitely skills and game-related stuff because we get to use the balls and play practice games.
What does your training diet consist of?
As a forward it's important for me to maintain my weight because that goes hand in hand with my strength. My diet's pretty simple. Normally I eat several small meals a day, but I do stay away from junk foods and foods that are high in fat or sugars.
Do you have a favourite cheat food or way to vary your diet to get your favourite food in?
Every now and then I have a day where I let myself eat something I have been craving. It might be a pizza or chips and gravy or some KFC.
What about drugs and alcohol?
I stay away from alcohol during the season unless it's a one-off celebratory drink. It's just one of those sacrifices you have to make if you're serious about your sport. I am totally against drugs of any kind – the effects can be devastating not only for you, but also for those around you.
What advice do you have for Deadly Vibe readers on health and sport?
Healthy living and being involved in sport go hand in hand; you can't have one without the other. Drink lots of water and eat healthy food. Stay focused on your goals: if it were easy, everybody would be doing it – the fact it's hard makes it good.
What are your goals for 2010?
I've already set my goals for 2010 across the entire season. My first was to make the Indigenous All Stars side and I achieved that, so now I want to play well. Beyond that I'm working on having a more consistent season with Manly and increasing my game time; later in the season, I want myself and the club to finish the year strongly.