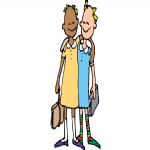 Story: Who's your buddy?
Whether your school is in the city, the country or way out bush, you could probably use a buddy. A buddy school, that is.
The Buddy School network is part of the Dare to Lead project – an Australian Government funded, national project with a focus on improving educational outcomes for Indigenous students. It's based on the belief that, in order to effect change in schools, principals need to lead the way.
The aim of Dare to Lead is to bring about lasting, wide-spread change by encouraging principals from around Australia to form a coalition of schools who commit to improving the educational outcomes of their Indigenous students. Principals are also given advice and support to help them revise their school curriculum and other school programs in a way that ensures their students develop a better understanding of Indigenous culture.
More than 2850 schools and 136 institutions across Australia have so far joined the coalition. Any school that is part of the Dare to Lead coalition can get a Buddy School.
Having a Buddy School is a great way to learn about other parts of Australia, develop new friendships and support each other in getting a better education. Buddy schools can discuss common issues and swap ideas, take part in joint activities and keep each other up to date with current issues and events.
There are currently more than 150 schools using the Buddy School network. Some schools have chosen to be buddies with another school nearby; others have chosen to match up with a school that's far away or one that differs from their own. It's up to you what kind of Buddy School you think would best suit your own needs.
Why not speak to your school principal about joining the Dare to Lead Coalition? Your school can either choose your own Buddy School, or have one nominated for you.
For more information about Dare to Lead and the Buddy Schools system, go to www.daretolead.edu.au.