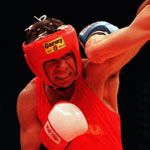 Deadly Vibe Issue 92 October 2004
Anthony Little, boxing, 60kg division
West Australian Anthony has been boxing since he was 13, and in 2000 he was named Aboriginal Sport Star of the Year.
He narrowly missed out on selection for the Australian Olympic team in 2000 after finishing runner-up to James Swan at the national championships, and in 2003 he won the 64kg title at the Oceania Boxing Championships, qualifying for the 2003 world championships, where he reached the second round.
At the Olympics, Anthony made it through to the second round of 16 in the 60kg division after defeating Taoufik Chobba of Tunisia; he was then defeated by Russian boxer Murat Khrachev.
(Story 1/10/2004 end)
Deadly Vibe Issue 61 March 2002
Vibe recently learned of a young fighter from the West who is making inroads in the ranks of amateur boxing in Australia. According to his trainer, Jim Taylor, he has the potential to win a medal at the 2004 Olympic Games in Athens, or even a professional world title.
The boxer's name is Anthony Little and he hails from the West Australian town of Mullewa, which is also where Ernie Dingo comes from. Born in 1980, Anthony was 10 years old when he first became interested in boxing.
"I was running a bus service for the local PCYC in 1990," explains Jim, who has trained Anthony for all of his 11 years in the sport. "I can remember Anthony jumped on the bus one day and insisted on coming back to the gym to box."
And a good thing too. In 1995 Anthony won the West Australian junior title, before going on to take out the Australian title in the 48kg weight division. The following year he won the West Australian title in the 54kg weight division and, three weeks later, the West Australian bantamweight senior title.
In 1998 Anthony travelled to Samoa to compete in the South Pacific Games, where he won gold in the 54kg weight division. Later that same year he fought in South Australia for the Australian bantamweight title, losing by close points decision to Hussein Hussein, who has since gone on to fight for Team Fenech in the professional arena.
Anthony narrowly missed out on being selected for the Australian Olympic team in 2000 after finishing runner-up to James Swan. Later the same year he again stepped into the ring with James to fight for the Australian featherweight title, but lost in what was considered a tight match.
"Both fights were so close, the decision could have gone either way," says Anthony. "I thought I'd won them both and people I know who saw them also thought I'd won."
Jim Taylor describes Anthony's fighting style as fast and furious. "He has loads of speed with lightning reflexes and solid power, and he possesses a great jab. He's a good combination puncher with a sturdy chin."
Known as 'Blueboy', Anthony is training full-time at present and has his sights set on the Commonwealth Games in Manchester later this year.
"My ambition is to fight in Manchester and then at the 2004 Olympics in Athens. But at this stage I'm just concentrating on one fight at a time."
When he's not punching or sparring, Anthony likes to observe Kostya
Tszyu. "He's wicked that bloke!"
Jim believes his young charge will be good enough to fight for Australia in Athens.
"He has the skills and the talent and if he shows the commitment and dedication needed, then the sky's the limit. A world title is not out of the question. He's world class."

(Story 1/3/2002 end)