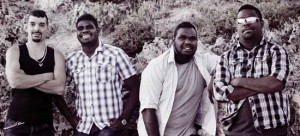 Western Australian reggae band Oz Island has just released their debut album better life and the band seems destined for big things. Their songs are gaining airplay and they attracted a nomination in this year's Western Australian Music Association (WAM) song of the year. They are already sharing stages with the likes of Christine Anu, Troy Cassar-Daley and The Last Kinection.
Oz Island plays Australian Indigenous Pacific Island Reggae with a blend of rock, R&B, blues and country. They are Geoffrey James (lead guitar), Fabian Cox (rhythm and lead guitar), Japeth James (singer and keyboards) and Patrick Laurel (bass). They often work with a session drummer. The band started out in Perth a few years ago when they were all studying at Abmusic.
Since forming, the band has been gigging around WA, playing at various festivals and recording their debut album.
When asked why they play reggae, guitarist Fabian Cox says it is in their blood.
"We all grew up around reggae and country music. This is a blend – reggae, rock, island-style reggae. While there was country music in the blood as well, reggae was the favoured style for all of us," he says.
The boys come from an impressive Indigenous music lineage. Lead singer Japeth is the cousin of Geoffrey Gurrumul Yunupingu and has family tied up with the Saltwater Band. Geoffrey and Fabian are family of the Kimberley band Fitzroy Xpress, and Fabian grew up with his dad (also named Fabian) and Mark Bin Bakar (aka Mary G) playing in bands.
Fabian says Oz Island has also been influenced by local WA Indigenous bands such as Scrap Metal, Footprince and Silhouette.
Apart from their smooth Pacific-style reggae, the band also has a social conscience that is expressed in their lyrics. The language track, "Gorrngunya", is spoken in Japeth's traditional language of Burarra from Maningrida and makes a statement on the debilitating effects of marijuana on young men.
Fabian says this song hits home with the message that cannabis use is creating problems in some Indigenous communities.
"We see the problems that gunja causes in communities. Japeth wrote that when he went home to Maningrida for a holiday he watched a young fella just smoking his life away – in the morning and at lunchtime and every day – wasting his life away on weed," Fabian says.
"This song is about making the choice about the dangers of gunja and why we have chosen to steer clear of it."
The song "Blue Stranger" has been nominated in this year's WAM Song of the Year competition. It is about being in a strange town and feeling like an outsider.
"When you grow up in a community, everyone knows you and your business. So it's really strange to go somewhere else where you are a total stranger. It can be a real eye-opener and scary as well. It's important to know who you are and where you want to go so you don't get side-tracked," Fabian says.
The album was launched at the Kulcha club in Fremantle on October 8. They were supported by the Bartlett Bros and Angela Rule on the night.
Oz Island is happy with where their career is heading at the moment, but Fabian says they are also planning to tour the album soon.
Better Life is released by Too Solid Records and distributed through MGM and Skinnyfish Music. Better Life is also available on iTunes and through all good music retail outlets.
For more information about the band, check out www.ozisland.com.au