DEWAYNE EVERETTSMITH
Tasmanian singer/songwriter Dewayne Everettsmith first gained national attention during his 2007 Australian Idol audition. His musical style draws strongly on his Aboriginal heritage, which links him to the Aboriginal community of Cape Barren Island and the Gunai/Kurnai people of southeast Victoria. In a major recent boost to his career, Dewayne has been involved with the international Australian Tourism ad campaign There's Nothing Like Australia features the song It's Like Love, written by Dewayne in collaboration with American viola player Jasmine Beams. Dewayne has been signed to Skinnyfish Music and has just completed recording his first album, which will be released later this year.
MARCUS COROWA
From Bowen in Queensland, after moving to Sydney in 2011 and recording his debut EP with Gadigal Music, singer/songwriter Marcus Corowa is building a strong following with his catchy melodies and smooth, soulful voice. Marcus was a finalist in Queensland's premier song writing competition – the Q Song Awards in 2010 and the APRA Professional Development Awards in 2011. Since then he has performed at the 2012 Yabun Festival alongside Jessica Mauboy and Dan Sultan and recording his first EP, The Greater You.
JACINTA PRICE
Jacinta Price performs a combination of blues, soul, roots and folk. She grew up in Alice Springs and learnt to play the violin before switching to vocals as part of local hip hop outfit Flava 4 and C-Mobs. She is also known as Sassy-J. She sings soulful vocals and spits rhymes with Alice Springs hip-hop act, Catch The Fly, and has also recently teamed up with folk and soul man Colin Lillie to create Night & Day. Jacinta was named Artist of the Year at the 2011 Alice Springs NAIDOC Awards and she is also a star of children's television program Yamba's Playtime, which broadcasts on Imparja Television.
THELMA PLUM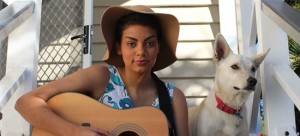 Brisbane's Thelma Plum won this year's Triple J Unearthed competition for the National Indigenous Music Awards. Thelma grew up in Moree and Brisbane. She cites Paul Kelly and Marianne Faithfull as her musical influences and is proud of her Aboriginal, Australian and Brazilian heritage. Having already performed at numerous all-ages venues, markets and cultural festivals around south-east Queensland, Thelma has captivated audiences with her songs of innocence and experience. Her songs are well-developed and her song writing is impressive with a disarming charm to her lyrics. Thelma is hoping to release her first EP soon and is planning a move to Melbourne to pursue her music career.
CAPER
Caper, aka Colin Darcy, is no stranger to national attention. His life story was captured in the documentary Chasing Shadows, which aired Australia wide on ABC 1 Artscape. Musically, Caper raps with insightful lyricism, drawn from the inspiration of his own and other people's experiences. He has also recently written and recorded a song called Eyes about diabetic eye disease and trachoma for a charity foundation called Sight For All. Caper's released his debut EP Believe online and his videos for Eyes and How Would You Like To Be Me have been picked up to be aired nationally on a music show called Landed Music.