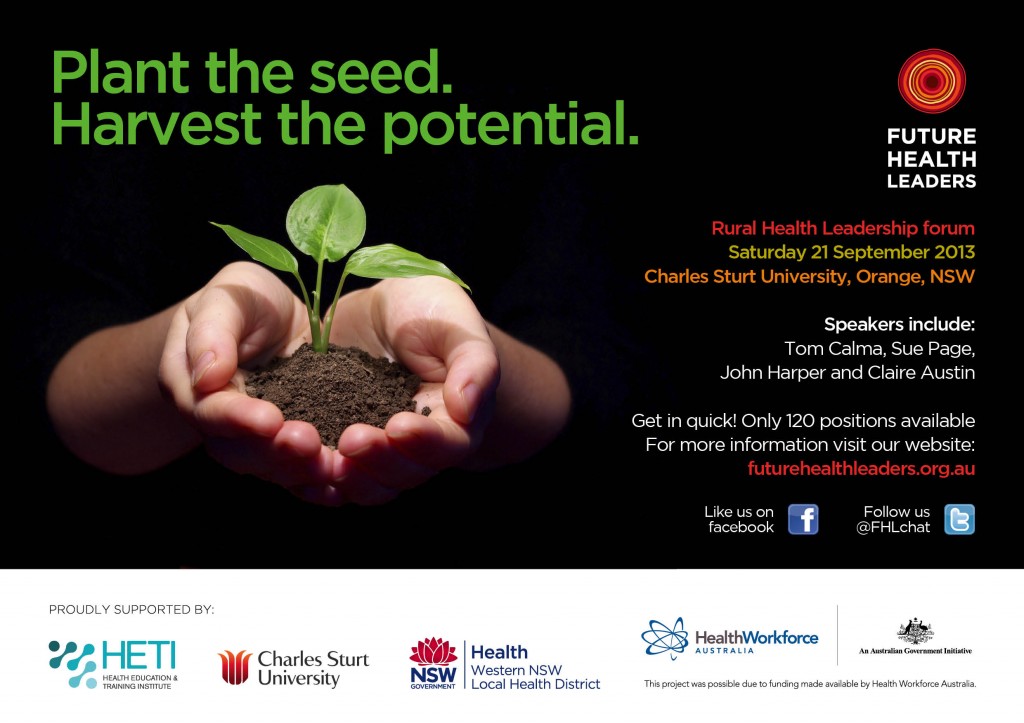 Future Health Leaders is a new initiative of Health Workforce Australia (HWA). It aims to engage students and early-career health professionals in the health reform process.
HWA is hosting an Orange Rural Health Forum on 21 September 2013, called Plant the seed, harvest the potential. The event is planned to host around 110 health students and early-career health professionals at the Orange campus of Charles Sturt University. Keynote speakers include Dr Tom Calma, Sue Page, John Harper and Claire Austin.
The forum will address the potential for leadership growth in rural and remote communities but will also highlight the challenges to improve the health of rural and remote Australians. It will focus on Indigenous health, rural health, rural health workforce recruitment and retention and leadership within rural and remote communities. Multiple workshops will be aimed at up skilling delegates for leadership positions within rural and remote communities.
Future Health Leaders is looking for young and passionate leaders to become part of the team as Future Health Leaders Council Members. Among the positions they are filling are Aboriginal Health Practitioner and an Indigenous representative. You can nominate here – applications close 19 August.