Adrian Brown is an Ngunnawal ranger in the Australian Capital Territory, who spends much of his time learning and teaching people about the 'bush menu' and medicinal properties of plants and animal s native to the area.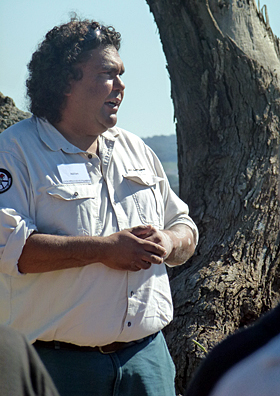 Public consultation, cultural awareness and building relationships with community members are also a big part of Adrian's job.
"My role is to look after the cultural landscape to protect our cultural resources that we do with the elders. Everything we do we run by our elders before we actively or physically do anything," Adrian says.
"Our relationship with our community is vital as a Ngunnawal ranger."
While his skills have come from his training, it was his father who passed on his own knowledge of the culture and plants native to the area to Adrian.
"The Geebung fruit is a good energy source, as are native cherries, bush tomatoes which are known as the kangaroo apple, and lomandra longifolia also known as the spiny mat rush, the seed is edible from that and also the root," Adrian says.
"We also have mountain pepper, which grows high up in the mountains but is good for soups and things like that. Wattle seeds can be ground down by the women to make damper, so they're some of the main ones."
Other plants can be used for their medicinal properties, like the bracken fern, which is used on a regular basis.
"You can make all sorts of things. The bracken fern is good for stings and bites, whereas something else like the tea tree would be really good for cuts and burns," he says.
"The stringy bark leaf is a good medicinal plant too for cleaning out the insides of the stomach. There are lots and lots of resources out there."
Adrian was one of the first Aboriginal rangers to join the ACT Parks and Conservation Service through the traineeship program.
"We've had a traineeship with the ACT Parks and Conservation Service for the last 11 years and I was at the beginning of that," he says.
"I did the first traineeship and I've been fortunate enough to be around for the last 10 and a half years to pass on the knowledge I've learnt to all the new trainees that we get every year."