Elcho Island's Chooky Dancers are taking some time out of their busy tour schedule to perform at this year's Boomerang Festival in Byron Bay.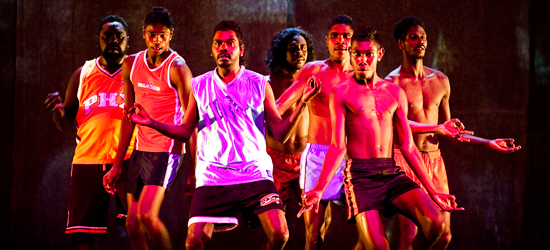 The northern New South Wales subtropical area of Byron Bay offers a warm climate and picturesque surrounds – the perfect location for holding a cultural event like the Boomerang Festival.
The weekend showcases Aboriginal talent across many mediums, with performances from the likes of Geoffrey Gurrumul Yunupingu, Archie Roach, Shellie Morris, The Medics and Thelma Plum.
Taking a contemporary, comedic approach to traditional Aboriginal dance, The Chooky Dancers have created a unique style that always entertains a diverse audience.
"The style makes it really engaging to the non-Indigenous audience and even the younger kids. Contemporary pop culture is a major part of kids' lives through YouTube, mobile phones and the web," says Artistic Director Joshua Bond. "It makes it more relevant to them because the Chooky Dancers utilise that media."
The Chooky Dancers use their performing as a medium to encourage Aboriginal children to embrace their culture and the Boomerang Festival gives them another opportunity to do so.
"It's been a platform for them to become leaders and role models for young black kids across the country in terms of song and dance and being proud of their culture, language and traditional dance. They promote that at all of their festivals and gigs such as Boomerang," Joshua says. "We think festivals like this are really important in creating opportunities that maintain our cultural practices and inspire that amongst the younger generations who will come along and watch."
The dance that first put The Chooky Dancers in the limelight was performed to the song "Zorba the Greek" and was choreographed by Lionel Dulmanawuy. Lionel got the inspiration for the dance from his Greek friend named Liliane, who was the carer of his now deceased sister Priscilla.
Lionel's family needed a way to acknowledge Liliane and express their appreciation of all that he had done for them, and so the dance was created.
Upon performing the dance at the Ramingining Festival, Lionel's father Frank Djirrimbilpilwuy uploaded it to YouTube where it received half a million views in a matter of weeks. The Chooky Dancers now travel the world performing their choreographed dances, and will travel to Canada in the next few weeks. Upon their return they will be touring regional Australia.