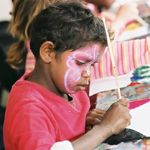 Another Success in Ceduna!
The National Indigenous Basketball and Hip Hop Challenge – the Vibe 3on3® – returned to Ceduna for the third time and was another great success with over forty teams participating.
The community turned out in force, despite the rain, at the Ceduna Area School, on Saturday, December 6, and Sunday December 7, with locals being joined by visitors from as far away as Koonibba and Yalata.
"Ceduna turned out in great force and spirit despite the first rainy weather at a 3on3 in the events 10 year history, this confirms the mutual chemistry which exists between the event and the youth and community of Ceduna," said Claude Williams, event coordinator of the Vibe 3on3®.
With a tireless and dedicated local committee, it is no secret why Vibe keeps returning to Ceduna.
"Our crew were very impressed not only but the organisation and enthusiasm of the local committee, but their creativity and support too, putting their hand up to run a gym activity as part of the day," said Claude.
Joining the Vibe crew in Ceduna was former Port Power AFL player, Che Cockatoo Collins, who spent the day hanging out with participants and community members as well as rapper extraordinaire Brothablack.
A big thank you goes out to all the event volunteers who worked so hard to make the event as enjoyable as possible for the young people of Ceduna. Special mention to local sponsors, Ceduna Area School, Families SA, the District Council of Ceduna, Tjutjunaku Worka Tjuta, the Indigenous Coordination Centre, Ceduna Koonibba Aboriginal Health Service, Ceduna Youth Centre, Ceduna Community Gym, South Australian Police in Ceduna, Aboriginal Drug and Alcohol Council SA, Save the Children and the Ceduna District Health Service for their ongoing support.
The Vibe 3on3® is a weekend Aboriginal youth festival that incorporates basketball, dancing, art, culture and health. We aim to promote healthy lifestyles, strengthen communities and boost self-esteem. The Vibe 3on3® is also an excellent opportunity for health services and related organisations to introduce themselves to the wider community. For more information, go to www.vibe.com.au
Ceduna Winners

Boys 10 and Under
Team Name: Lakers
1. Cecil Smith
2. Ian Millera
3. Kym Lebois
4. Ali Johncock
Presenter: Paul Greggory
Organisation: Families SA

Boys 12 and Under
Team Name: Miller Brothers
1. Shaun Miller
2. Joseph Binell
3. Andrew Miller
4. Liam Miller (absent from photo)
Presenter: Chellie Hosking
Organisation: Families SA

Boys 14 and Under
Team Name: The Stars
1. Shannon McNamara
2. Che Champion
3. Brodie Mamilera
4. Craig Ware
Presenter: Councillor Phil Gregory
Organisation: District Council of Ceduna

Boys Open
Team Name: Raiders
1. Eddie Carein
2. Tyson O'Loughlin
3. Robert Walley
4. Darryll Coleman (absent from photo)
Presenter: Che Cockatoo Collins
Organisation: Vibe Australia

Girls 10 and Under
Team Name: Havanas
1. Tallulah Bilney
2. Kiama Miller
3. Mikayla Saunders Pickett
4. Taliyah Ware
Presenter: Belichia Saunders
Organisation: TWT


Girls 12 and Under
Team Name: Vibe Champs
1. Emilyee Cooper
2. Rhianna Nicholls
3. Makayla Collard (absent from photo)
4. Chloe Collard (absent from photo)
Presenter: Shannon Willmott
Organisation: Families SA


Girls 14 and Under
Team Name: Run Amoks
1. Klamersya Miller
2. Sonearae Bilney
3. Kadisha O'Loughlin
4. Ishy Champion
Presenter: Waylon Johncock
Organisation: Ceduna Koonibba Aboriginal Health Service


Girls Open
Team Name: Tia Takaya
1. Tiffany Taylor
2. Cirena Bilney
3. Ainslee Carbine
4. Shellander Champion (absent from photo)
Presenter: David Sheldon
Organisation: SA Police


Gym Activity
Team Name: Wildcats
1. Chynne Shaw
2. Meshayla Shaw
3. Wanda Shaw
4. Tayla Ware (absent from photo)
Presented by: David Topless
Organisation: Ceduna Area Gym


Rap
Team Name: Raiders
1. Eddie Carein
2. Robert Walley
3. Tyson O'Loughlin
4. Darryl Coleman (absent from photo)
Presenter: Brothablack
Organisation: Vibe Australia


Best Art House
Team Name: Ceduna Chicks
1. Gloria Haseldine
2. Jacinta Haseldine
3. Mia Hasledine
Presenter: Laura Heron
Organisation: Vibe Australia


Break Off Winners
Boys Break Off
1. Ashlan Miller
2. Jamahl Ware
3. Zaheer Kouger
Presenter: Isaac Parsons
Organisation: Vibe Australia


Girls Break Off
1. Chayanne Shaw
2. Destiny Shaw
3. Emily Cooper
Presenter: Rachel Kontominas
Organisation: Vibe Australia

Puggy Hunter Award
Name: Mikayla Saunders Pickett
Presenter: Claude Williams
Organisation: Vibe Australia