It was all too predictable in the end. A riled, ruthless Queensland put together an awe inspiring performance at Suncorp on Wednesday night, levelling the series with a 26-6 win, and reminding everyone who might have questioned their passion, or thought they were getting a little long in the tooth, that this champion team is far from a spent force.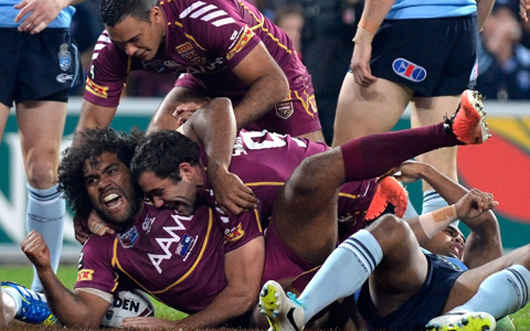 What stung most about that Game 1 loss for the Maroons was the fact it came down to them simply being out enthused.
Let's face it, Queensland is a state that bases its entire united, cultural identity upon this football team – you never expect Queensland to not be up for an Origin match, and in Game 1 the Maroons had their pants pulled down.With the Queenslanders' pride on the line, Game 2 in Queensland was always going to be a tough assignment for the Blues.
The Cauldron was well and truly bubbling over, and while the Blues rallied in points and can take some positives out of the match – holding the Queenslanders' first onslaught to just 14 points is one – for the most part, they seemed rattled by the Queensland game plan and the phenomenal Queensland home crowd.
The greatest positive for the Blues coming into Game 3, is that the game will not be played in Queensland.
After winning the toss, Queensland elected to receive the ball from the kick off, an odd choice, but one that paid dividend immediately. They received a penalty, scored, captured the momentum and then just rolled on. It was the perfect start and Sam Thaiday was instrumental in getting them on the front foot from the opening kick-off. I thought Sam enjoyed one of his best ever Origin games, his running on the right hand side was devastating, and he terrorised James Maloney all night.
Johnathan Thurston was back to his scintillating best, setting up two tries from lovely cut out passes. On the opposite side of the field the NSW half's were poor, but the fact the Blues struggled to get out of their own half for most of the match didn't help matters for Maloney and Pearce.
The Blues' kicking game was abysmal. After waiting so long, Nathan Merritt's Origin debut may be a game he'd rather forget. I don't think he could have made his debut under tougher circumstances, and I don't believe any other player could have done much better out on that wing where the Maroons eventually scored three tries.
Laurie Daley revealed after the match that jamming Inglis quickly was part of his game plan, deflecting blame away from Merritt for rushing up out of his line on the occasions where Queensland scored out wide. With Josh Dugan enjoying a solid game, and Jarred Hayne likely to be available for selection, Merritt's place in the team for Game 3 isn't certain, but I really hope he gets another game.
Now onto the sin-bin fiasco. We've gone from one game where a player punched another and received no time in the bin, to the very next game where four players were sin-binned, two of whom never threw a punch! What a debacle. Trent Merrin and Justin Hodges deserved their stints in the bin, but sending Greg Bird and Brent Tate along with them, purely for trying to break up the fight was ridiculous, and a massive overreaction.
I'm all for discouraging punching and fist fights in a match, particularly one watched by so many young fans, but if you start binning players for a bit of push and shove in a rugby league match, you may as well just pull up stumps on the game.
Let's hope the media, the NRL, and the referees, can all just calm down a little and create some consistency on how the aggression of State of Origin football, something that defines it, should be fairly handled in a manner that will not damage the brand.
The series now moves to a thrilling Game 3 decider in Sydney in three weeks' time, a game which is sure to be one of the most anticipated in Origin history.