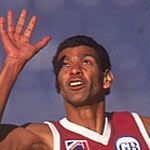 One of AFL's past legends, Gilbert McAdam is well known around the country for his footballing achievements.
Starting out in the Northern Territory Football League (NTFL) with Souths at age 11, Gilbert cut his teeth during the late 1980s in the South Australian National Football League (SANFL). Winner of the prestigious Magarey Medal as a member of the Central Districts team, he eventually went on to play for St Kilda and Brisbane in the top-shelf AFL competition.
It all began in Alice Springs, where Aussie rules was treated like a religion in Gilbert's household. Gilbert's father, Charlie, was president of the Souths Football Club in Alice Springs and his three sons (Greg, Gilbert and Adrian) could often be seen down the local park, kicking a ball around.
When Gilbert joined Souths as an 11 year old, he had no choice but to play in the Under 15 division. Although his team-mates were a lot older than him, he had the example of his older brother Greg, who would go on to play many games for North Adelaide and St Kilda himself.
"If it wasn't for Greg, I probably wouldn't have had a career in AFL," says Gilbert. "He showed me that it was possible to achieve what you set out to do. After watching Greg achieve his dreams, I just went ahead and did it."
Gilbert is also very appreciative of his parents' example in raising him to believe in himself.
"Growing up in Alice Springs we were lucky to be exposed to a lot of cultural activities. But it was Mum and Dad who were the keys to our success. Our sisters were great netballers too, and Mum and Dad often paid for our trips away."
Although he retired in 1996, Gilbert just can't keep away from the game. He returned to Alice recently to coach his old team Souths to a premiership victory, something of which he is justifiably proud.

"To win a premiership for the side my dad was so heavily involved with means a lot to me, more than playing 100 AFL games or even winning the Magarey medal!"
Gilbert has taken part in football development programs in Melbourne, Brisbane and Adelaide. He's also involved in the AFL-initiated 'Kick Start' program in the East Kimberley, which aims to bring football to the bush. There he sets up carnivals, teaches young people how to look after their bodies and helps groom community leaders.
"I love my work!" he exclaims. "Football has always been a part of my life and to share it with people is just magic. Especially if one of the young fullas up here goes on to play at the level I played at."
That's a real possibility. Gilbert says he is very impressed with the wealth of talent he's finding through the program.
"They don't have a lot going for them except their culture and schooling, so football is very important to them. They treat it like a religion!"
So did Gilbert, and look where that got him!