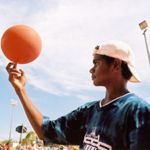 On the weekend of July 16 and 17, the Vibe 3on3™ made its return to the vibrant and colourful community of Yirrkala in the Northern Territory, once again enjoying a magical weekend of basketball and hip hop fun on the shores of the Arafura Sea.
The stars of the Yirrkala event have always been the children of the community, and while the weekend is about basketball, hip hop and healthy lifestyles, the 3on3 crew learn as much from the children as the children learn from them, by way of cultural enrichment and the sharing of tradition, language and knowledge.
For Tammy Jarrett, a graduate of the NAISDA dance college who runs the girls' dancing workshop during the event, this was her first trip to Yirrkala and one that she will never forget.
"I thought the kids were beautiful," said Tammy after the event. "They were very talented and they weren't shame to join in the activities.
"I was impressed by how the community has kept their young people involved in their culture, and also how they speak their language fluently. Just being around it all was an amazing experience."
Event producer Gavin Jones was once again overwhelmed with the warm welcome received by the crew, and echoes all of their sentiments when he speaks about the uniqueness of the Yirrkala event.
"Yirrkala is a truly special community," Gavin said. "It's a place that all the crew now share a very strong and heartfelt connection with.
"The young people of Yirrkala are one of a kind – so rich in their culture, so talented and so welcoming. Each time we bring the event to Nhulunbuy there is that same magical atmosphere. The location is stunning and for the entire crew, travelling to Yirrkala is a special reward and something that stays with us long after we return home to Sydney."
Over the course of the weekend, 54 teams participated in the basketball and hip hop activities. The entire weekend was a complete success, but sadly it came to an end all too soon.
When the van carrying the last of the crew pulled out of Yirrkala late on the Sunday, many of the young people who had taken part in the 3on3 stood by the side of the road to wave off the Vibe crew with beaming smiles.
For the Vibe crew, who are all based in Sydney, the trip away to Yirrkala is always a very special journey. Each time they return home deeply touched by the community's warmth, generosity and beautiful culture and look forward to their next trip back to what has become a second home.



Boys U10
G-Unit
Brendan Baunu
Yama Baunu
Kalkani Pehi
Presenter: Bethan Davies




Girls U10
Angel Girls
Rosie Mununggurr
Maminydjama Maymurru
Louise Mununuggurr
Presenter: Rene Baker





Boys U12
FUBU
Tyresse Maymuru
Jesiah Munungurru
Shaun Munungurr
Presenter: Yalmay Yunupingu




Girls U12
Rockstars
Whitney Marika
Rhiannon Mununggurritj
Lesley Ganamarra
Troy Marika
Presenter: Djawalpi Marika




Boys U14
All Blacks
Dallas Walker
Jeremy Edwards
Aaron Walker
Presenter: Bo de la Cruz




Girls U14
SMS
Alkeira Wallace
Shona Briston
Sarah Berrington
Mel Belk
Presenter: Kyle Vander-Kuyp






Boys U16
NBA Boys
Denis Lansen
Daniel Ngurruthun
Gerard Munungurru
Josh Grimsey
Presenter: Michelle Musselwhite




Girls U16
Superstars
Kenesha Ganambarr
Kylie Nguwaurruthun
Delma Guyual
Veronica Bindinal
Presenter: Andrea Collins




Boys Open
Thunderboys
Galbirri Collins
Booge Ngurruwutthun
Michael Taulane
Presenter: Kyle Vander-Kuyp




Girls U18
Puma
Dayna Yunupingu
Terena Munungurru
Jurisha Burarrwada
Gwenda Munugurru
Irene Munungurru
Presenter: Claude Williams




Puggy Hunter Award
Whitney Marika
Presenter: Sharon Munungurr




Girls Open
Dhanbul Oldies
Michelle Musselwhite
Andrea Collins
Banbapuy Whitehead
Baminuniya Marika
Presenter: Vicki Jones




Girls Rap Winner
Veronica Bindinal
Runner Up – Shazam
Lateesha Jeffrey
Carly Bassett
Sophia Detenon
Presenter: Mike Bamford




Boys Rap Competition Winner
Dion
Runner Up – G-Unit
Kalkani Pehi
Yama Baunu
Brendan Baunu
Presenter: Wire MC






Traditional Dancing
Yirrya
Boys
Djumburpur
Burnyarrwuy
Presenter: Maria Munungurr




Traditional Dancing
Yoluy Bugggul
Girls
Maminydjama
Wanymalka
Djolurr





Best Team Card
Shazam
Lateesha Jeffrey
Carly Bassett
Sophia Detenon
Presenter: Gavin Jones




My Story Winner
Jeremy Edwards





Boys Break-off Winners
Brendan Prizeman (1st)
Cedric Marika (2nd)
Dennis Lansen (3rd)
Presenter: Isaac Parsons




Girls Break-off Winners
Basma Gurruwiwi (1st)
Jessica Ngurruwuthun (2nd)
Lateesha Jeffrey (3rd)
Presenter: Tammie Jarrett






Best Dressed
Arona Pehi
Kalkani Pehi
Yama Baunu
Presenter: Gavin Jones