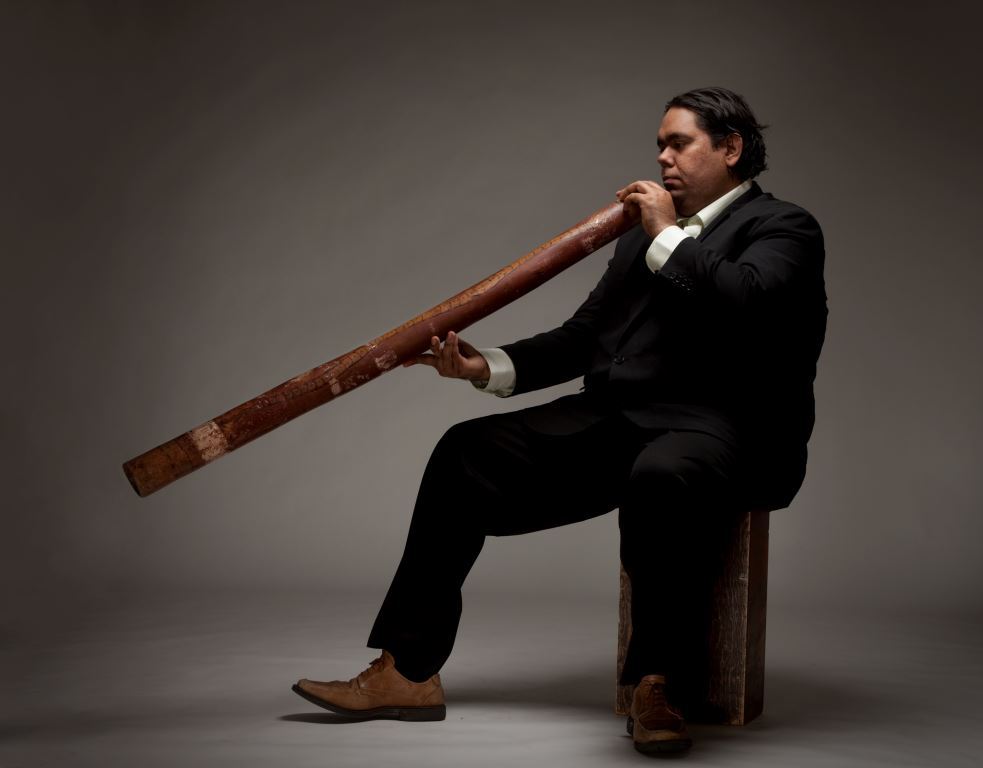 Didgeridoo virtuoso William Barton has just returned from the Australian Youth Orchestra's tour of Europe, playing alongside renowned German pianist and conductor Christoph Eschenbach and Grammy award winning American violinist Joshua Bell.
The multi award winning didgeridoo player has toured his unique blend of traditional Aboriginal music and contemporary music extensively throughout the world, making a name for himself as one of the finest didgeridoo players in the world today.
The didgeridoo would normally be considered an instrument incompatible with orchestral music but William has established a career blending this ancient "drone pipe" with symphonies in a spectacle of world class music.
"My passion is to create a journey for people through music and present to them diversity in musical styles with the didgeridoo, and engage with audiences about the uniqueness of Australia," says William.
"It has been a specific passion of mine to work closely with classical music and composers to develop and sustain music for the didgeridoo in this environment."

This Kalkadoon man has a rich Aboriginal heritage and values the importance of traditional culture. No matter how far from Australia he travels, he tries to spread the rich heritage of Australia's First People through his music and words.
"I always tell people if they want to hear more and get the in-depth story line of our people they should come to Australia and experience it firsthand so the cultural values don't get lost in translation," he says.
Although he is always travelling and sharing his talent, William has found time to record critically acclaimed albums namely the ARIA award winning classical album Kalkadungu in 2012.
William has been a pioneer of 'didge fusion', a technique that utilises guitar as well as the didgeridoo and cites his influences as Johann Sebastian Bach, Antonio Vivaldi, Led Zeppelin and AC/DC. In fact, William has performed with AC/DC, with a rendition of 'Thunderstruck' and enjoyed the experience.
Growing up in Mount Isa, William came from a diverse musical background and was drawn to classical music. He was taught to play the didgeridoo by his Uncle and has been touring internationally since the age of 15. His first performance was with a professional orchestra as a soloist at 17.
"As you become older you realise that all the songs and jam sessions have meaning and a story," he says.
"Music to me is all about the journey – it's a story line of cultural identity."
William plans releasing his new album and heading back overseas but in the meantime he'll be performing at the 2013 Deadly Awards.
"The Deadlys are a point of connection and acknowledgement to be given in a mainstream context," he says.
"It's awesome that these young up and coming musicians have a platform to share their music."
This accomplished virtuoso is an inspiration for many aspiring musicians and believes that achieving your dream is as easy as sticking to your passion.
"Find people who support you in a positive light and never give up on your dreams and ambition because that is where your life journey starts from," he says.