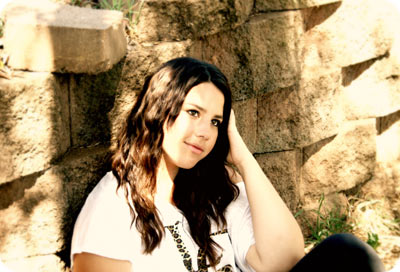 Having just won last year's Young, Black and Deadly competition, Loren Ryan has no choice but to 'fess up' to the fact that she is one awesome young performer. Growing up in Australia's country music capital -Tamworth, Loren was destined for a career in music.
"Living in Tamworth and having a really, really musical family gave me my passion for music. Every January we'd go out and experience the festival and see all the buskers and one year I saw my uncle busking and thought, 'that's what I want to do'. Our whole family just sang all the time and once I got a bit older, I taught myself guitar and started to write songs," says Loren.
However, despite being surrounded by country musicians Loren opted for a career singing her own original RnB tunes and even though her particular style of music isn't usually featured at the Tamworth festival, she recently starred in the Indigenous showcase.
"Tamworth is really demanding about the style of music they want and usually that's country," says Loren. "So for me to be able to do RnB and not country and still be accepted in Tamworth is a pretty big thing," she admits.
This year marked her third year at the showcase which she says helped her move from singing karaoke to considering a long-term career as a singer.
"I was singing at a karaoke competition at a local PCYC when Roger Knox heard me and said, 'we've got this elders' gathering happening and I'd like you to come and sing a song with me,'" says Loren. "So I did, and then I met Buddy Knox who's now been my mentor and guitarist for the last three years. He spent a lot of time getting me ready and when the year rolled around I performed at my first Indigenous showcase. Having mentors is everything because you have to analyse other people's success to find out how you can do it too. You need to not only listen to the people who are popular today but go back and listen to who they were influenced by as well and go back to the roots. If I didn't have the mentors I've had, like Buddy and Troy Cassar Daly and the Stiff Ginns, I wouldn't be in the position I am in today," says Loren.
Loren says that her first big break came two years ago when she made it into the top 10 of the Talent Development Project. The project which searches for the best up and coming talent from around Australia, gave Loren the opportunity to not only get used to auditioning, but to access the best music teachers in the country and perform with Idol success stories – Jessica Mauboy and Wes Carr.
"I auditioned via a DVD then they asked me to go to Sydney for a live audition. They started off with 80 students and over nine months I made it through the cut-backs into the top 10. Once a month I went down to the Sydney Entertainment Centre to do workshops and perform. It really developed me as an artist because the criticism you get is really constructive and helpful. But you don't take all of it on," Loren admits. "Some of the criticism you brush to the side because it might change you too much as an artist and you want to be as original as you can," says Loren.
"At the end of the program I got to perform with Jessica Mauboy and Wes Carr at the entertainment centre for the graduation, so it did open a lot of doors for me."
Since then, Loren has performed alongside Kev Carmody, the Street Warriors and Last Kinection, as well as at major festivals including Yabun and the Saltwater Freshwater Festival.
"My best gig to date would have to be the Yabun festival in Sydney last year. I only performed one song but it was amazing as I performed it on the main stage in front of over 10,000 people," she says.The song, titled 'All There Is', will be the first song from her upcoming EP. While most students studying their HSC barely have time for their homework, Loren, who is in year 12, is planning to fit in writing, recording and promoting her EP.
"My EP is going to be mostly originals, so I have to finish writing a couple of songs before I go into the studio. I am looking to record it with Steve Newton who they say is the best of the best. Buddy Knox will play guitar and I might get some sax and some other musicians in as I want it to have an earthy, acoustic sound with a funk, latin over-tone."
Due for release by the middle of this year, Loren has no intention of letting her EP sit idly on a shelf in her bedroom. She says she understands that hard work and dedication are what it takes to make it in the highly competitive music industry but is determined to follow her dream and make a living from her only passion, singing.
"You have to love it otherwise you won't have the drive and the hunger to push through those hard times when you are playing to a crowd of empty chairs or the cleaning guy. You really have to be passionate about your art or you'll just give up. You have to sacrifice a lot of things – from time to time you might miss some school or work or that security of having a steady job so you can go and do your music, but I'm determined to keep trying until I get there," says Loren.
If determination is what it takes, we have no doubt you'll be hearing a lot more of Loren Ryan. In the meantime you can visit www.youtube.com/user/MsBoo1919 to see Loren's live performances online.