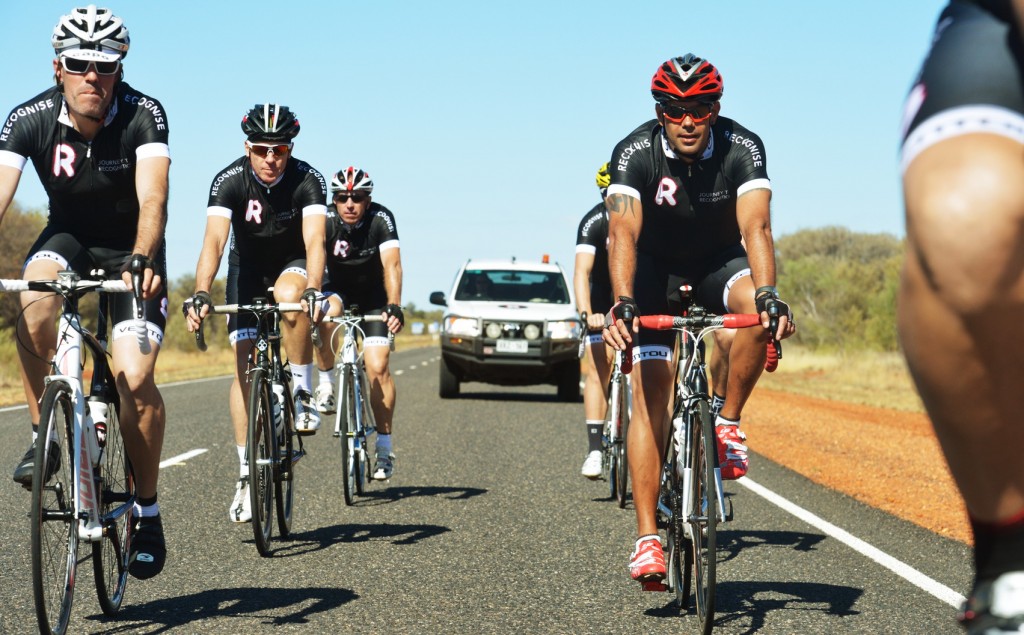 A group of eight riders from around Australia are currently taking part in the Ride for Recognition to help raise awareness for the changes they, along with many Australians, think should be made to the Australian Constitution.
"The Journey of Recognition is about raising awareness for the constitutional changes that are needed to be made to update that document to more accurately capture what the country is about these days," Sean Appo, rider and National Centre for Indigenous Excellence employee, says.
"It's about the country growing up, making changes to the Constitution so that people can't be discriminated against on the basis of race. In the last however-many-years Australia has become a very multicultural country and I think that needs to be celebrated and re-enforced by our standing document."
Most of the riders work in the corporate sector with three of them Indigenous, while the other five are not. They have had the opportunity to share stories and experiences for much of the trip.
"The whole part of our story as we're riding along is that we're sharing backgrounds and having a good opportunity to talk to each other about how we grew up; what (the ride) means to us and what our family upbringing was like," Sean says.
"We're able to share all of those background stories as well as think about how the country would look once these constitutional changes are made."
The riders would like to see Aboriginal and Torres Strait Islander people recognised in the Constitution, as well as removing or changing any material that is found to be racially discriminating.
"There are sections of the Constitution that can exclude people from voting based on their race, and there are sections in the Constitution that can allow for laws to be made that will racially discriminate against different groups as well. Those areas need to be changed," Sean says.
The riders are taking 10 days to ride from Alice Springs to Katherine in the Northern Territory, which is something they may not have thought about doing had the opportunity not presented itself.
"The country's pretty harsh out here, so we're stopping quite regularly to make sure our water bottles are full and that we're taking on board other fuel like fruit and some snacks," Sean says.
"There's some amazing scenery and it's changed a lot from when we left Alice Springs. The further north we go, the greener it's getting."
When the group stopped at the Devil's Marbles on Sunday, the riders were able to discuss what they thought it meant to Aboriginal people, as they had no tour guide to tell them.
"It was very humbling. There's a definite energy about that place and when we pulled in there we spoke about what it may have meant to people," Sean says.
"I think most of us, while they took a few photos here and there, we were definitely plugged in to what was going on in that place."
On their arrival at Katherine on Friday, July 26, the group will attend an event at the Tick Market Site from 6pm. The free event will be open to families and will include storytelling, cultural performances, music, food stalls and face painting.
Special guests will include songwriter and performer Shellie Morris and Professor Mick Dodson from the National Centre of Indigenous Studies.