Cricket Australia (CA) has joined with Recognise this week, the movement to acknowledge Aboriginal and Torres Strait Islander people in the Australian Constitution.
Australian Cricketers Brad Haddin, Ryan Harris, Steve Smith, George Bailey and Nathan Lyon joined Commonwealth Bank Southern Stars Meg Lanning and Ellyse Perry to pledge their support for the Recognise movement in a community service announcement (CSA) launched online which also calls for fans to sign up.
The CSA forms part of Cricket's support of National Aborigines and Islanders Day Observance Committee (NAIDOC) Week which runs this week until Sunday. The week is designed to celebrate Aboriginal and Torres Strait Islander cultures, and it provides an opportunity to recognise the contributions that Aboriginal and Torres Strait Islander Australians make to our country and society.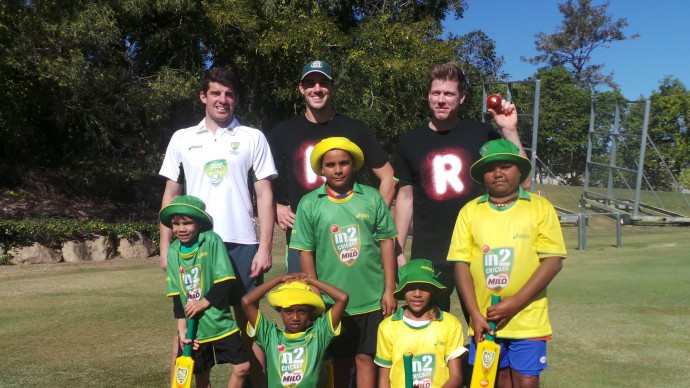 Speaking from the United Kingdom where he is coaching the UK County team Yorkshire, former Australian Test cricketer and the first Indigenous Australian to represent Australia, Jason Gillespie was proud of Cricket's support of constitutional recognition for Aboriginal and Torres Strait Islander people.
"I'm proud to see Australian Cricket throw its support behind a movement to recognise Aboriginal and Torres Strait Islander peoples in the Constitution and ensuring it is free from discrimination.
"Despite Australia's rich history, at the moment the chapter recognising Indigenous Australians is missing from the document that makes us a nation.
"It's a positive step forward and it's great to see Cricket taking a leadership position with such a history-making moment for our nation."
Cricket Australia Chief Executive James Sutherland says the organisation's involvement with Recognise was part of Cricket Cares, CA's community action program.
"Aboriginal and Torres Strait Islander Australians have a strong heritage with cricket. The efforts of leading cricketer Tom Wills to involve Aboriginal players with the game in 1866, was in itself an important early gesture of reconciliation," Mr Sutherland says.
"Two years later in 1868, the first Australian team to tour England was made up of Indigenous cricketers.
"Cricket Australia is proud to lend its support to the historic quest to acknowledge the first part of Australia's story.
"Recognising Aboriginal and Torres Strait Islander peoples in our nation's founding document and ensuring there is no place for racial discrimination is about fairness, inclusion and respect – values Australian cricket aims to live by."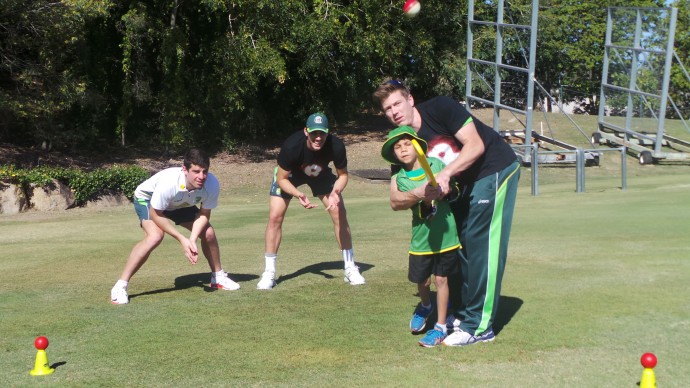 Recognise spokeswoman Tanya Hosch says it was great to see Cricket Australia and the players joining the grassroots movement of Australians working for this referendum.
"Every one of us needs to bring our leadership to this and stand up for what we know to be right, so that we can fix this together," she says.
"Cricket is a great national symbol and source of pride for Australia, and so it is fitting that the leadership from this national body would stand strongly behind this campaign that seeks to deliver another unifying moment for the country."
Cricket Australia is investing heavily in developing participation and talent development programmes specifically tailored to Indigenous Australians. Cricket Australia has a goal to get more Aboriginal and Torres Strait Islander Australians playing cricket, and is achieving this through its national Indigenous competition, the Imparja Cup, along with Game and Market Development participation programs.
Engaging Aboriginal and Torres Strait Islander Australians in cricket is fundamental to the strategy of Australian cricket and the wider goal to ensure cricket is a sport for all Australians, with an ultimate aim of Indigenous cricketers wearing the Baggy Green sometime soon.
As part of its support for NAIDOC Week and the launch of the partnership with Recognise, Cricket Australia and Queensland Cricket has invited a group of Indigenous children from Queensland's Cherbourg community to participate in a skills clinic on Allan Border Field with cricketers James Faulkner Pat Cummins and Moises Henriques.
Local Brisbane Aboriginal and Torres Strait Islander children also participated in the first day of the 2014 Australia A Series match's lunch time event activity, following a Welcome to Country and Flag Raising Ceremony to mark NAIDOC Week.