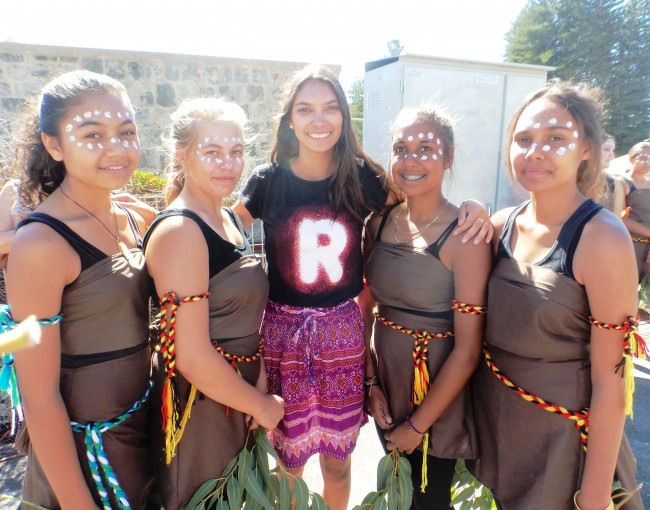 The Recognise relay has set off again on its epic journey across Australia, relaunching this week in Fremantle hosted by Elders from the Whadjuk Noongar community, the traditional owners of the region.
Some 300 Fremantle locals turned out to welcome the Journey to Recognition and celebrate the opening of a new Aboriginal Cultural Centre in the city.
The relay gives communities across the nation a chance to be part of the movement to recognise Aboriginal and Torres Strait Islander Australians in our country's Constitution – and to remove race discrimination from it.
Whadjuk Noongar Elder Cedric Jacobs gave a generous welcome to country at the Fremantle event, saying: "I invite you on behalf of our Elders to walk with us, at our 
pace, in peace and unity, as it will align us with the soul and spirit of our land, and learn from our Aboriginal elders. For after all, this land's resources have been managed in a sustainable way by my ancestors for 50,000 years."
Noongar Elder Margaret Culbong of the Whadjuk tribal nation told the crowd that she particularly wanted to see constitutional recognition secured for future generations.
"The Journey to Recognition is about empowering our young people, both black and white, it's about working together to build a stronger, positive future for all in our country. Learning how we live together, accepting and acknowledging who we are, and respecting who we are," she says.
Her granddaughter, Tiana Culbong also addressed the crowd.
"It is now 2014 – a time for change; a time to move forward as a nation united; a time to remove a constitutional silence; a time to recognise Aboriginal people and our history in this country," she says.
"It is time to remove the divide between Aboriginal and non-Aboriginal people; a time to accept and acknowledge a shared history. By doing this, we can move forward together and share Australia's future. I stand here to urge you to join the movement to make a change for a better future for us all."
The Journey to Recognition began in Melbourne last May.
Around 2000 people walked the first kilometre of the relay along the banks of the Yarra – led by AFL legend Michael Long, Aboriginal and Torres Strait Islander leaders and federal political figures from right across the party spectrum.
Small relay teams of Recognise campaigners have since covered almost 16,000 kilometres by foot, bike, 4 wheel drive, kayak, surfboard and paddle board. They have visited more than 90 communities and had contact with more than 7500 Australians.
They finished the last leg in Perth last December, when a crowd of 1500 was welcomed by Noongar Elder Len Collard and heard support for recognition from AFL legend David Wirrpanda and actor Ernie Dingo.
From Fremantle on Monday, the Journey to Recognition will travel through the south-west of WA, stopping in Mandurah and the Roelands Village – once the site of the Roelands Mission – before walking from Bunbury to Augusta over 10 days.
The WA leg of the Journey will end in Esperance, before campaigners head north to Queensland.
Locals are invited to community events in each town on the way.
The re-launch of the Journey to Recognition coincided with the opening of the Fremantle Aboriginal Cultural Centre honouring the thousands of years of culture, tradition, knowledge and achievements of the Whadjuk Noongar people.
For Recognise campaigner Pete Dawson, it was an honour to watch such an important community space come to life, so more people could connect with the remarkable story of the first people of Australia, who maintain the oldest continuing cultures in the world.
"The story of the Whadjuk Noongar people – like so many other Aboriginal and Torres Strait Islander people across our country – is an inspiring one for every Australian," he says.
"We are deeply honoured by the generous welcome we had today and the invitation to be part of this special day for the Whadjuk Noongar people and the Freo community."
To find out more visit www.recognise.org.au