In its Indigenous round, the AFL will declare its backing for the Recognise campaign and promote it through every game in Round 11 of the 2014 Toyota AFL Premiership season.
Inspired by the leadership of many of its Indigenous all-time greats, the AFL will join them in becoming an official supporter of Recognise.
AFL legends including Michael Long, Gavin Wanganeen, Andrew McLeod, David Wirrpanda, Michael O'Loughlin and Adam Goodes have all spoken from the heart about wanting to see the proud history of Aboriginal and Torres Strait Islander Australians included in the nation's Constitution.
They also want to ensure there is no place for discrimination in our nation's founding document.
The players have been backed by others in the AFL including the entire Port Adelaide and Adelaide Football Clubs, who are now also official Recognise supporters.
The incoming CEO of the AFL, Gillon McLachlan, says the AFL's partnership with Recognise honoured the close links between Indigenous communities and the AFL.
"We are very proud of the enduring ties between the AFL and Indigenous Australia over many years, sustained by the ongoing work that is happening among our players, clubs and communities to close the gap in life chances," he says.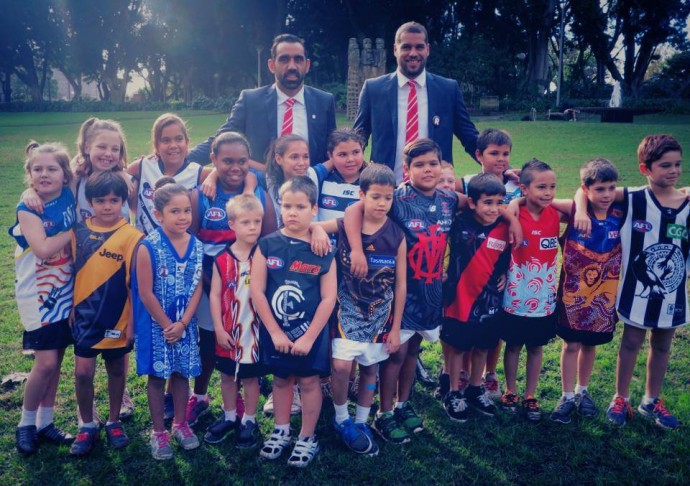 "We also love to see the inspiration that young Indigenous people draw from watching the acknowledgement and celebration of so many Indigenous players for their sheer excellence in our game," he says.
"Recognise is a campaign which has multi-party political support and we are pleased to play our role as a member of the community by supporting this initiative to ensure Aboriginal and Torres Strait Islander Australians are appropriately recognised in our nation's constitution."
Fans will see the big R for Recognise at the grounds, and in advertising in the television broadcasts of the games – thanks to Recognise partners at Telstra. The R will also feature in the centre bounce circle, thanks to the AFL and its premier partner Toyota. Fans are also encouraged to show their support at recognise.org.au.
Jason Mifsud, a Gunditjmara man and the AFL's Head of Diversity, says he is proud to have helped to bring about this partnership, which was a natural extension of the AFL's leadership and its huge following in Aboriginal and Torres Strait Islander communities.
"So many Indigenous Australians have made our national football game what it is today and standing with them in this way is the least we can do," he says.
"It's incredible to think that we are not yet recognised in Australia's founding document when so many of our AFL Indigenous players inspire thousands of Australians every week," he says.
Recognise spokesperson Tanya Hosch said the AFL deserved huge credit for being role models on recognition.
"The AFL are really showing the way for other sporting codes and major companies and institutions to think about how they can be part of this historic chance to bring our nation together on recognition," she says.
"The AFL's Indigenous Round recognises the huge contribution of Aboriginal and Torres Strait Islander players to the game. And we want Australians to have the chance to vote at a referendum to recognise in our Constitution the huge contribution of Aboriginal and Torres Strait Islander Australians to our nation."