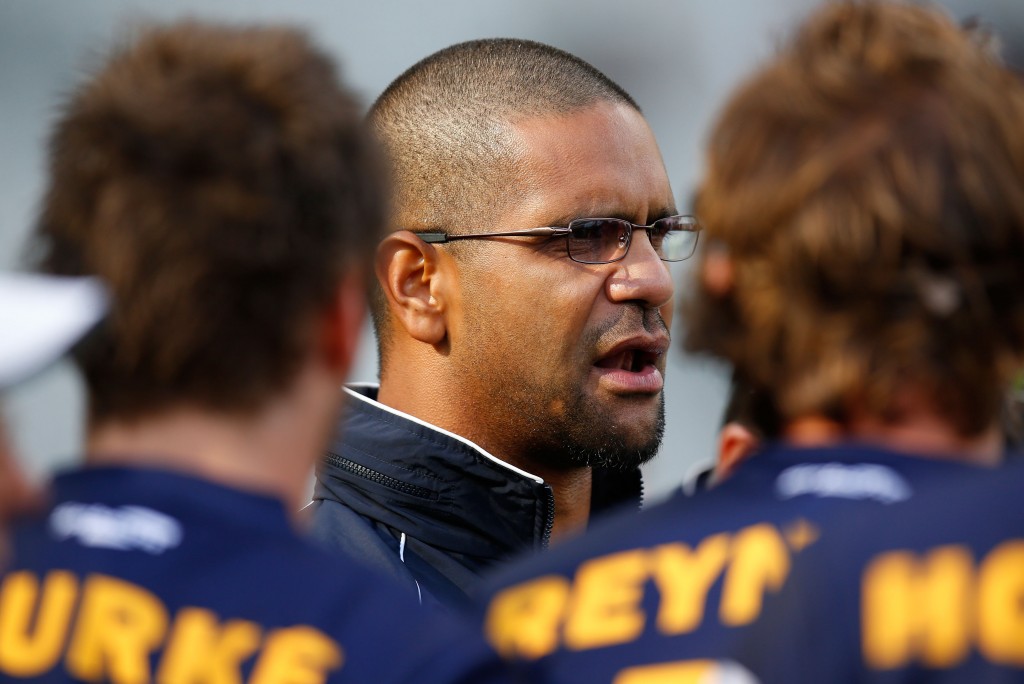 The Indigenous All-Stars will head overseas for the International Rules Series (IRS) tour of Ireland in late October, with the AFL declaring it would reinvigorate the series.
AFL's leading lights Adam Goodes, Cyril Rioli and Lance Franklin have guaranteed the All-Star's coach, former international series player Michael O'Loughlin, they will play in the two-test International Rules Series against Ireland.
"It's an amazing experience for me, I'm very humbled. We'll go over and pay our respects. It's a real honour that I'm going to be able to do that," says Michael.
"I've been lucky enough to represent Australia a few times and I'm looking forward to getting back over there."
This is the first all-Indigenous team to represent Australia at a senior level overseas since 1868, when a cricket team comprising of all Indigenous players toured England. For Coach Michael, a key to coming back with the IRS' Cormac McAnallen Cup is preparation.
"We're going to be ruthless in our approach to the games; preparation was one of my strengths as a player, and I'll be bringing that approach to the team," he says.
"It's like any professional sport – you do your homework and prepare the right way, so when the lights come on you don't get found out."
Australia lost the last series to the Irish in 2011 when we hosted it on our home soil, but Michael is sure that this won't be happening this time around.
"Our strengths, without a doubt, will obviously be speed and skill but that's what the Irish's strength will be," he says.
"When they've selected their side, we'll go through each individual player and see what they can and can't do and I think they'll do the same for us. We'll pick a very strong side and I have absolutely no intentions of coming back empty handed.
"I'm really looking forward to preparing the boys to go into battle."
AFL, a game that was largely defined by the traditional game of Marngrook, is beginning to gain more attention internationally.
"AFL is absolutely growing as an international sport. Being the head coach at the AIS, we take our lads overseas to promote the game and give the boys a bit of a learning experience," says Michael.
"I think it's the greatest game in the world, so why wouldn't I go and share it?"
The former Swans superstar says the game comes naturally to a lot of our mob, like Adam Goodes and Cyril Rioli, but being a great of the game requires much more.
"The game comes really instinctively but there's a lot of hard work that goes into it. If you want to survive at the elite level you've got to have more than just skill and natural ability," he says.
"It's all about hard work, and being able to make a career out of it is difficult, only a small percentage of players get to do that.
"The way the guys have adapted to the workload and the professionalism required is amazing."
Michael played over 300 games during his AFL career making him only the third player with Aboriginal heritage to do so. He's a member of the Indigenous Team of the Century and now the only Aboriginal coach at the AIS.
He has definitely earned his place as one of the best the games has ever seen.
"If you'd told me I'd be where I now at 17 years of age I wouldn't have believed you. I've worked extremely hard to get where I am today," he says.
"I'm trying to show the generation coming through that we're more than just football players; we can work in running footy clubs; we can be football managers; and we can do whatever we put our minds to."
Although the Irish are tough competitors, with a team of some of the best players Australia has to offer and one of the greats leading the ways, the luck of the Irish may have run out.
"It's funny when I see my last name 'O'Loughlin' coaching the Australian side – I don't know how that will go down," jokes Michael.