AMS of the Week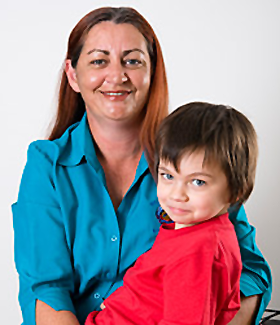 Holiday makers are drawn to North Stradbroke Island, in Moreton Bay just off the Queensland coast near Brisbane, because of its natural beauty. The Yulu-Burri-Ba Medical Centre has been providing health related services to the Aboriginal and Torres Strait Islander communities on this idyllic island for over 25 years.
The main clinic is located in Dunwich, one of three townships on the island. It became incorporated as Yulu-Burri-Ba in 1994. Initially, the service commenced with three providers and the service was situated at the Dunwich Hall on a weekly basis every Thursday.
Since then, Yulu-Burri-Ba has established a community controlled health service providing lots of care facilities and services. The service now has over 20 staff.
CEO of Yulu-Burri-Ba Medical Centre Jan Lember says the medical service aims to provide a safe, friendly, confidential and culturally appropriate primary health care service that recognizes community control and local participation.
"We have been incorporated here since 1994, but the service started long before that.
Yulu-Burri-Ba is a community heath service that has a governing board made up of local community members to ensure the needs of the community are met," she says.
Some of the services on the island include a GP Clinic, a Health Promotions Team, a Clinical Team, and a Social-Emotional Well-Being Team.
"The health promotions team has a diabetes worker, a women's health worker, a nutrition promotions worker and a youth worker, who goes into schools to deliver health education," Jan says.
"We have a counsellor attached to the Social-Emotional Team and a Men's Shed over here, which that team helps run. We also have specialists coming in and allied health workers, such as dieticians, diabetes educator and a respiratory nurse and podiatry."
Other services available include home visits, check-up's, pap smears, pregnancy tests, heart checks, counselling, vaccinations, minor surgery, stitching cuts, removal of moles and sunspots, liquid nitrogen, freezing therapy for sun spots and warts, nutritional advice, blood tests for pathology and general medicals.
"On Capalaba there is a GP clinic. We realised there was a big gap for indigenous health on the mainland in the bay side area. Over there we have a Mums and Bubs Clinic and an associated nurse as well and we also have this clinic on the island," Jan says.The service also operates an outreach service on the mainland in the bay side area at Capalaba
Jan says the island is an ideal place to live and work.
"The island has an Indigenous population of about 700. It is a very natural environment. The environment has been kept much the same as what it would have been like 200 years ago. It is beautiful. It really is a lovely place."
The surgery bulk-bills all patients, including Veteran Affairs card holders, but you need to bring your Medicare card with you at all times. For after hours care, please contact the Marie Rose Centre on (07) 3409 9059.
Yulu-Burri-Ba is located at 16 Dickson Way Dunwich, Stradbroke Island
For more information call (07) 3409 9596 or visit their website at http://www.ybb.com.au/