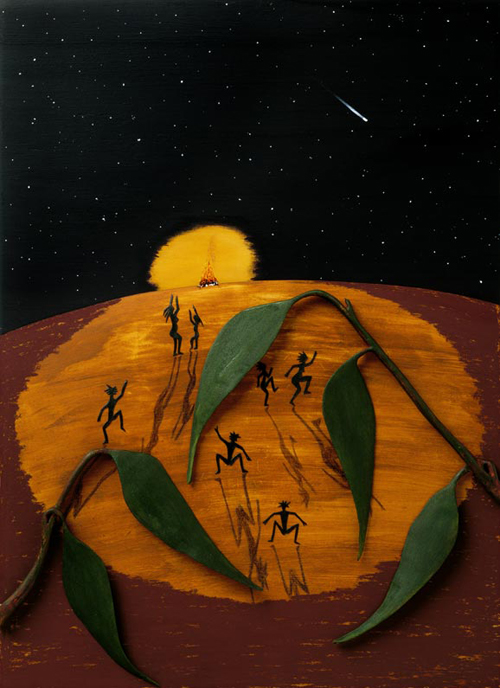 Mixed-media artist Darryl Pfitzner Milika has always been a star-gazer. Some of his earliest memories are of lying outside under the night sky with his brothers and sisters,
and thinking that, one day, he'd like to be an Astronomer.Years passed and Darryl's life took other paths, some which led to a bit of strife, but he eventually came back around to discover that long-lost feeling of wonder he'd had as a child for the cosmos and its secrets.
From humble beginnings making jewellery, Darryl's images of the solar system now feature in the world's top scientific journals. Darryl is an accomplished Adelaide-based Kokatha artist who has been painting, sculpting and taking photographs for more than 30 years.
Born in South Australia in 1949, he grew up in a time when racial prejudices were widespread. It was a combination of youth and prejudices that Darryl believes led him astray and away from his culture. "I roamed around a bit and got in to a bit of trouble as a young fella," he says. "It was really only in the '70s when I met some Aboriginal leaders in Adelaide that I started to think about where my life was going and who I was. I didn't have a sense of purpose or direction." A chance meeting with well-known brothers Basil and Major Sumner at the Aboriginal Sobriety Group, helped Darryl to find his purpose and direction. The brothers encouraged him to follow his passion. "I remember Major saying to me, 'I support anything that any Aboriginal person does or makes as that's the way that people can lift themselves up,'" he recalls.
At the time Darryl was making small items of jewellery and the Sumner brothers bought him some pliers and silver wire. With this encouragement, Darryl went on to create works that are now in private, public and permanent collections. One of his most prominent works to date is an environmental sculpture on the North Terrace in Adelaide. Created in 1994, the work titled 'Yerrakartarta' – which in Kaurna language means 'at random' or 'without design' – made history as it was the largest commission of an Aboriginal artwork at that time.
He has another large series of 10 dioramas that are also permanently on display in the foyer of the South Australian Migration Museum. Last year the Tandanya National Aboriginal Cultural Institute held an exhibition of Darryl's latest creations called 'Sky, Land & Beyond: Expanding Identity'. The exhibition featured large-scale works and a series of small-scale digital-image prints that explored landscape, sky and cosmology. It was a full-circle moment for Darryl as he had first exhibited at Tandanya when he was starting out, and also a return to his childhood fascination with the stars and sky.