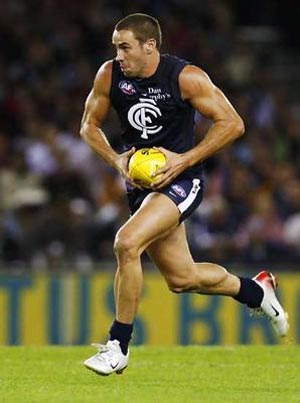 Well known Echuca brothers AFL star Andrew Walker and singer/songwriter Benny Walker are finalists in the 2011 Deadly Awards.
Andrew has scored a deserved top spot as a nominee for Outstanding Achievement in AFL, while Benny has been nominated for the Most Promising New Talent in Music award.
The Deadlys aim to recognise the contribution and achievement of Aboriginal and Torres Strait Islanders to their community and to Australian society, and culminate in a night of nights at the Sydney Opera House on 27 September.
Currently playing for Carlton Blues, Andrew's had a strong 2011 season scoring 50 goals for the Blues. He's in contention for the 2011 Mark of the Year competition and is considered a stand out after he flew high over Essendon's Jake Carlisle for what most people think will win him the contest.
Meanwhile, Benny has been consolidating his music career, embarking on a tour that will take in Tasmania in October and South Australia in November. He is playing at the Australian World Music Expo in Melbourne in November and is also supporting Christine Anu in shows later in the year.
"It's a real honour to be recognised by the Aboriginal community for my achievements and what I am trying to do in the music industry," Benny says.
"The Deadlys are great exposure for up and coming artists and also great recognition for those who are making an impact."
Voting in Australia's largest Indigenous awards night is now open at www.vibe.com.au/deadlys until 10 September. Tickets for the 2011 Deadlys ($45 or $30 concession) are available from the Sydney Opera House. For more information, visit www.sydneyoperahouse.com
The Deadly Awards will be broadcast on SBS One on Sunday, October 2 at 9.30pm and repeated on SBS Two on Saturday, October 8 at 7.30pm.