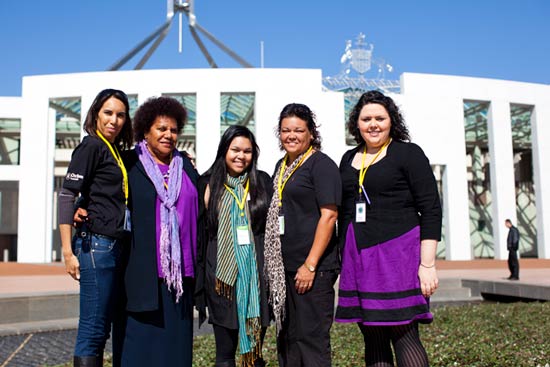 Oxfam is again on the look-out for straight-talking Aboriginal and Torres Strait Islander women to take part in a program to help them bring about change in their communities and build relationships with female federal politicians.
Oxfam Australia's fourth Straight Talk national summit, from 16 – 20 June, will see 60 women of all ages, backgrounds and locations converge in Canberra to meet with women in Federal Parliament and find ways to work together to bring about change.
Oxfam Australia Aboriginal and Torres Strait Islander Peoples' Program Manager Karrina Nolan said participants would learn about the political system, discuss common issues of concern and generate strategies for bringing about change, before meeting with women from all sides of politics at Parliament House.
"Straight Talk originated from the knowledge that women were the backbone of Aboriginal and Torres Strait Islander communities and had a powerful role to play in bringing about change," she said.
To represent the diversity of Aboriginal and Torres Strait Islander women, Oxfam Australia is encouraging applications from women of all ages, family types, and education and employment levels.
"Whether they come from remote communities or urban areas, Aboriginal and Torres Strait Islander women will sit down with female parliamentarians and discuss some of the issues facing women and communities," Ms Nolan said.
"Straight Talk has engaged more than 250 Aboriginal and Torres Strait Islander women across Australia, supporting them to establish their own solutions, exercise their rights and to have a strong voice in decisions that affect their lives."
According to Ms Nolan, Straight Talk has built ongoing links between Aboriginal and Torres Strait Islander women and women in politics.
"A number of parliamentarians have visited participants in regional areas, some have helped set up meetings or provided letters of support for funding or programs, and a few of our past participants have been invited to give evidence to parliamentary inquiries," Ms Nolan said.
"Some women are even leaving Straight Talk with new knowledge and a conviction to one day stand for political office. In fact, a number of Straight Talkers ran in the last Federal Election."
Twenty-nine-year-old Lee Jard, a project officer at the Department of Health and Ageing, said participating in the 2011 Straight Summit had helped her forge a new path.
"The Straight Talk experience is completely one of a kind," Ms Jard said. "Being able to talk about the key issues in our communities, coming up with solutions as a collective, and being able to share the whole experience with like-minded women was just amazing.
"It teaches leadership skills, and you come away feeling recharged, refocussed and empowered. It doesn't matter how much you know about politics – the skills you learn can be applied to almost anything."
Since taking part in Straight Talk, Ms Jard has started a Bachelor of Arts, majoring in public and political relations, and eventually would like to head up an NGO that trains and employs at risk youths in the Canberra region.
Applications close on 22 April. Go to www.oxfam.org.au