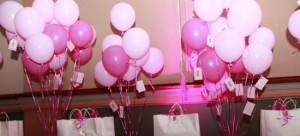 Deadly Vibe: How did you get into doing charity events?
Mikele: I began doing these events when my grandmother was diagnosed with breast cancer in 2009, she has been my main inspiration for every single fundraiser I've held. Although it was devastating when Nan passed away this August, it only motivated and inspired me more to reach my first goal of raising $10,000 for the National Breast Cancer Foundation (NBCF). In saying that, because I have been working closely with the NBCF for the last four years, I have been given the opportunity to meet many people who have battled or are battling breast cancer, along with many others who have lost loved ones to the disease. Hearing about these people's stories and their personal journeys has encouraged me to do my part for the NBCF, and assist them in reaching their goal of zero deaths due to Breast Cancer by 2030. My Nan along with the all the other Australians who struggle and fight breast cancer inspire me every day.
DV: What does putting on a charity event involve?
Mikele: Planning: the event takes a lot of behind-the-scenes work. Because it is not for profit and we work with a low budget, we're always trying to find people who are interested in donating fabulous things, as well as all the other important things that need to be done, like model fittings, dress rehearsals, decorating, and all the rest. It's paying attention to the little things that also make the event really stand out. Ensuring that a massive event runs smoothly and to plan is not practical and is basically impossible, however a lot of hard work and time goes into ensuring that everything is organised and prepared to the best of your ability.
DV: What kind of feedback have you had from the community?
Mikele: Over the years, we've had a lot of good feedback from the community, as well as lots of support. We have heaps of people who wouldn't miss the event, and they are our main support network – without that support the event wouldn't go ahead each year, because no matter how much work I put in, without the people, the whole event is pointless. I also continue to get positive feedback, as well as suggestions on ways to better the event in further years, which is something else I appreciate because that is how my event has continued to thrive for four years, and hopefully will still be going strong in the future.
DV: Do you have any tips or advice for other young Indigenous people on how to go about organising community events?
Mikele: I say go for it! It is definitely  something you will need to dedicate a lot of your time and energy to. At times it will be stressful, but I think that all community members should give it a shot if it is something that they are interested in, especially if it's a cause you're passionate about. Caring or being passionate about why you're doing the event will make all the hard work worthwhile and motivate you during the planning process. One important suggestion that anyone planning an event should know is that it's also important to keep your temper in check. You need to be prepared for a few mishaps and understand that once the event starts nothing may go to plan, but It's important to roll with it and not ruin the flow or vibe.
DV: Are you currently planning any more events for the future?
Mikele: Definitely. I have a few fundraising ideas for Fashion for Passion 2013 in the works. I'm very dedicated to raising money for the cause as it is so close to my heart, and I will continue organising a yearly event to raise proceeds for the NBCF for future years to come. I'm also considering event planning as a career.