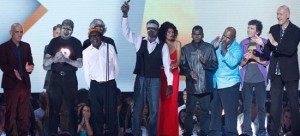 Ask any person in the street who is the most famous Indigenous band we have seen in the last 20 years, and they'll likely say Yothu Yindi. That iconic status was cemented when the groundbreaking Northern territory band was inducted into the ARIA Hall of Fame.
Deadly Vibe was lucky enough to catch up with lead singer and Yothu Yindi songwriter Mandawuy Yunupingu before the awards ceremony on 29 November.
Formed in 1986 with Yolngu and Balanda (non-Aboriginal) band members, Yothu Yindi crossed the cultural divide by blending Indigenous and non-Indigenous sounds to create something unique. It's a sound that has had a lasting impact on both the musical and political landscape in Australia, and internationally.
Mandawuy is the band's lead singer and songwriter. He remembers the early days of Yothu Yindi and the legacy they left, not only for other Indigenous musicians to follow, but also in changing attitudes among non-Indigenous people.
"To be inducted into the ARIA Hall of Fame is a big honour for me and I'm looking forward to the celebrations. Looking back, I think we were the only band at that time to expose our culture to the wider community. We crossed the line into mainstream and we were groundbreaking," Mandawuy says.
"It was very different times in those days.
We were black people coming into a white world that was sceptical of our people, but through our music we were able to open minds to Aboriginal Australia and where we as a race of people were going."
To commemorate the induction, Yothu Yindi has released a 'best of' album: Healing Stone.
As you would expect, there are all the hits, "Treaty", "Djapana", "Mainstream" … and a new track, "Healing Stone". While language is a feature of many Indigenous songs today, Yothu Yindi was among the first to sing parts of their songs in their native language and it was done with attitude.
"Singing in language was difficult in those days, but I am a teacher and I came out smiling because it was really in your face back then," he says.
Among Mandawuy's favourite songs is the one that captured the minds and hearts
of a nation, black and white, that is still being sung today: "Treaty", which was
co-written by singer/songwriter Paul Kelly.
Mandawuy counts the likes of Paul Kelly and former Midnight Oil frontman Peter Garrett among his early influences.
"Treaty was a good song to write about. It got into the minds of Aboriginal people and Torres Strait Islanders. I see my grandsons sing it still and I think it's a song that Aboriginal people can sing together," Mandawuy says.
"I think the message today is that Constitutional change will take our people into the future."
Among his other early influences were Bart Willoughby and Mixed Relations. "They were a part of the Aboriginal movement and influenced me."
His most potent memory of that time is writing Treaty and being able to record the song in a studio. "It helped me gain an understanding of the world, and to expose myself to wider Australia. I learnt many things at that time – that there was an art in music and it helped me to be more receptive of things. I was also able to cross over to the other world, from Aboriginal to the white world," he says.
But despite the massive success Yothu Yindi enjoyed then and still does, Mandawuy has battled his own demons, his battle with alcohol being well documented.
Due to his diabetes and high blood pressure, he now has kidney failure and needs dialysis treatment every week. The title track "Healing Stone" is a tribute to traditional healing which Mandawuy witnessed firsthand from his mother.
"I have kidney failure and every week I am on dialysis, but before that I was able to see what my mother used to do; she was a traditional healer and used bush medicine to heal people. Her brother was a healer, too, and he healed a lot of people. I used to see them healing people and bringing people back to life. Traditional healing is now helping me, and my wife gave me bush medicine to make me strong again," he says.
Mandawuy doesn't hide from the fact that during the Yothu Yindi days he was very exposed to the white world. They were an Indigenous group bursting into the mainstream in 1986, a far cry from their Yolngu homelands in Arnhem Land, NT.
"But my knowledge of my own background helped me walk in the white world. Knowing your culture helps you battle the demons within and it's the best method for young people to overcome their demons and going into the white world and being a part of it."
Despite his illness he still hopes to continue to use his enormous talent as a songwriter in the future.
"I'm open to ways in the future, on the horizon, to continue to write and record more songs."
Yothu Yindi has released six albums in total; their debut album Homeland Movement in 1989, followed by Tribal Voice in 1991, Freedom in 1993, Birrkuta – Wild Honey in 1996, One Blood in 1998 and Garma in 2000.
They have toured with many acts, including Midnight Oil, Tracy Chapman, Neil Young and Carlos Santana, as well as playing numerous solo tours and festivals both in Australia and overseas.
They've won no less than eight ARIA Music Awards and "Treaty" was voted Single of the Year and Song of the Year at the ARIA Awards in 1992. In May 2001, the Australasian Performing Rights Association (APRA), as part of its 75th Anniversary celebrations, named "Treaty" as one of the Top 30 Australian songs of all time.
ARIA Chairman Denis Handlin AM, believes Yothu Yindi has a special place in the nation's heart.
"On behalf of the ARIA Board it is with great honour that we induct Yothu Yindi into the ARIA Hall of Fame. Yothu Yindi created a special place in the nation's heart through their passionate and groundbreaking music. Their achievements remain a lasting heritage in both our community and overseas," he says.
The title track to the 'best of' compilation, "Healing Stone", is the first new song by Yothu Yindi in 12 years. Co-written by Mandawuy and INXS tunesmith Andrew Farriss, it's as culturally urgent, profoundly personal and ultimately universal as any song in the world-renowned Arnhem Land band's 27-year history.
Healing Stone: The Best of Yothu Yindi is out now and was produced to celebrate Yothu Yindi's induction into the ARIA Hall of Fame.