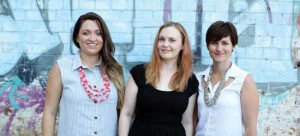 The Brisbane-based DigiYouth Theatre will workshop, write and produce an all-Indigenous youth play this year. The play will be about the challenges that face young people when they leave their communities to seek opportunities in the cities.
Digi Youth Theatre's director and producer, Alethea Beetson says Digi Youth Theatre will hold workshops to begin the production on 5 March this year.
"The focus of the project will be working with students living in Brisbane who come from remote communities. It will be about the challenges they face from being so far away from family, culture and country.
"We will workshop, write and produce a dynamic production that shares their stories. This performance will be showcased at the Powerhouse, giving the young people the opportunity to be part of a unique and professional production and further enhancing the benefits of this project.
"We start rehearsals at the end of April and the performances will be showcased at the Visy Theatre, Brisbane Powerhouse, on Thursday 13, Friday 14 and Saturday 15 June," Alethea says.
Alethea says the company has only formed recently, but the team has many collective years of working with young people to create innovative theatre.
"This is the first time that the Digi Youth Theatre will operate, but my background – as well as other members of the team – is in teaching drama and working on youth theatre productions, so we will be aiming at making this first one great," she says.
"The Script Development Team contains a few published writers. The head of the team, Kate Zahnleiter, has had a few short stories published and has won a creative industries writing award. She is also developing a manuscript at the moment.
"We have received funding from Fair Go Australia. They provide monetary assistance and mentoring support where it is needed. They have done a lot of things for Indigenous youth. They also have a Fair Go Australia Cup, which is a reconciliation touch footy tournament."
Alethea says the students she has worked with in the past come from remote schools, such as those in Cape York.
"We have some idea of what themes we want to explore because a lot of us have worked with Indigenous youth in remote schools, but we are also trying to leave as much of a blank canvas as possible to create the stories, so the kids will give us their ideas and put their truth out there. Our script development team will then go away and turn this material into a script using the characters and the storylines that the kids have created," she says.
"We are aiming at one major production a year at this point, but if there is any scope to travel into communities, we are open to that idea as well."
The Aboriginal Centre for Performing Arts in Kangaroo Point, Brisbane, is providing space to Digi Youth Theatre for the workshops and rehearsals.
"We are very grateful to have such a wonderful space to work in that showcases Indigenous Excellence in The Arts," Alethea says.
Digi Youth Theatre is a group of passionate and creative people who aim to empower Indigenous young people through collaborative theatre.
"We hope that Digi Youth Theatre can help to create mutually beneficial social change in Australia," Alethea says.