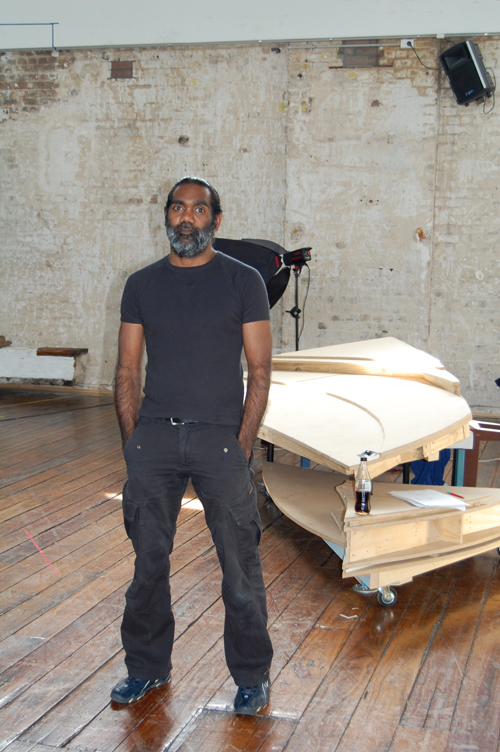 Hipbone Sticking Out is a new play by Big hART about an imagined spirit journey as well as a comparative journey of European and Aboriginal cultures throughout history centred around the community of Roeburn, WA.
Hipbone Sticking Out is the translation in Ngarluma language for a peninsula on the North West coast of WA in the Pilbara known as Murujuga or the Burrup Peninsula. Set amidst this backdrop – the world's largest outdoor rock art gallery – a stellar cast creates a story beginning in 1602 that places the Pilbara at the centre of world history. In the play, written by Scott Rankin, 16-year-old John Pat, scuffles with police, hits his head on the footpath and is left in a police lockup. His spirit then finds itself travelling through time meeting Greek and Roman Gods, tracing the spice routes, exploring the Indian Ocean, the paintings of Vermeer, the pop music of 1800's, the coming of ghost people to Ngarluma country, slavery, pearling, new law, ancient law, and the mining boom of the present.
Accompanying the story are tunes from The Clash, The Stranglers, Britney Spears, sea shanties and traditional songs of the Pilbara in glorious six-part harmony. During the play, John Pat's family hold the truth of this story in their hands as witnesses.
Creative Producer for the project Debra Myers says the play tells story of the Roeburn community. "Roeburn, population 1200, was a booming mining centre in the 1960s and 70s until nearby Karratha became the main mining centre. The play is telling the story of the Roeburn community," Deb says. "The play is set in 1983, the year that 16-year-old John Pat died in custody in Roeburn.
The narrator of this show is his spirit. We are telling the history of the people from that area and the story of John from the time the accident happened, to the time he passed away two hours later. "It does not go into other deaths in custody stories but we know that it will generate discussion around all of the other tragedies that have happened. It is more about everything in that community before that point, and everything that has come afterwards. "If John Pat was alive today he would be turning 47. Our storytellers are John at the age of 16 and his spirit as a 47-year-old man. Trevor Jamieson plays the older man."
Deb says the reason behind the journey in the show is to show the relative age of Aboriginal culture. "We wanted to show that in white culture we often think that Roman and Greek culture is really old, but it is only a few thousand years old. Compare that to Aboriginal culture, which is over 35,000 years old and white fella culture is very young – so by comparing it to the Greek and Roman myths we get that analogy," Deb says. "We move forward through time to Amsterdam. We wanted to show how white people came to this part of the world. This is also the story of how European countries first started exploring the world. The Dutch first sailed past WA to establish the spice trade. They did not stop here. It wasn't settled by Europeans until the English settled it in the 1860s. "There is a lot of tragedy in the story and we want to say – yes this happened – but we also want to show there is a great deal of strength and resilience in the community as there is in Aboriginal communities all over the country. That despite all of this tragedy, the community is going strong and building a strong future."
Created with the community of Roebourne by Scott Rankin and Big hART Hipbone Sticking Out is delivered by a cast including Trevor Jamieson, Derik Lynch, Lex Marinos, Simon Gleeson, Natalie O'Donnell, Jada Alberts and Lois Olney. Deb says Big hART tells the hidden stories of the nation. "These are the ones that don't make it into the mainstream media. It is often theatre that we use as the storytelling medium, but it can also be film, TV series, and installations at festivals. Our motto is 'it is much harder to hurt somebody if you know their story,' she says. "We try to bring the hidden stories out into the wide Australian public so that for people who don't normally have a voice – their voice begins to be heard. "So far, this is the only 2013 performance date. We are trying to get it into festivals and venues for 2014 and 2015." Over the past two years, Big hART has brought Namatjira and Ngapartji Ngapartji to Canberra. The third work in this trilogy will have its world premiere in Canberra as part of Big hART's residency at the Canberra Theatre Centre. Hipbone forms part of the larger Yijala Yala Project which is supported and encouraged by cultural leaders and the creative talent of the community in the Pilbara. Hipbone Sticking Out is on at the Canberra Theatre Centre from July 3 to 6. For more information go to: http://www.canberratheatrecentre.com.au/site/