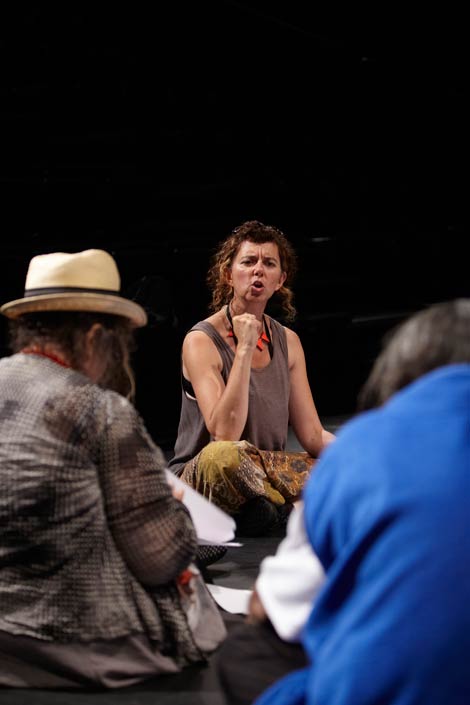 Winyanboga Yurringa, the new play by Andrea James, was recently presented for the first time at the national play festival in Perth. With a theme of identity, it tells the powerful story of Aboriginal women going back to country.
Winyanboga Yurringa translates as 'Women of the Sun' in Yorta Yorta language. Andrea James' play was inspired by the television series, Women of the Sun, from the book written by Hyllus Maris and Sonia Borg.
Andrea says the play was originally commissioned by Belvoir Theatre in 2010 as part of an ambitious project to do a staged adaptation of that work.
"My job was to write a brand-new episode. There are four episodes in the TV series – each follows the life of an Aboriginal woman," Andrea says.
"In each new episode we see a woman from the next generation and they are getting lighter in skin with each generation. My job was to think about who are the 'women of the sun' today – what are the main concerns for contemporary Aboriginal women.
I interviewed a lot of women I knew. One of the main issues that came out of those interviews was identity and what that means for us," she says.
"At that time Andrew Bolt made some statements and was scapegoating a whole lot of people. My uncle and a lot of friends were accused by this right-wing commentator so it was a big issue. Bindi Cole was one of the plaintiffs [who took Bolt to court for racial discrimination] and Bolt was critical of her exhibition called Not Quite Aboriginal.
She says these strands led to the development of ideas in the play. Andrea says the play is set on Yorta Yorta country when six women are invited by a community leader to come onto country.  They are all there to try and connect with their ancestors and their own pasts.
"I was trying to say it isn't always easy for us to just swing back onto country. It is a bit of an assumption that we can just do that – but all of these women are carrying all of their baggage from their lives and the central character was really bringing them onto country to re-connect with what is important to them as Aboriginal women, and it has nothing to do with skin colour," Andrea says.
She says the play also involves the women re-connecting with country and their ancestors by taking back artefacts that belonged there.
"The idea for this came about when I was working at the Koorie Heritage Trust. At the time, as a theatre-maker, I was taken by the power of those artefacts and what they mean to people," she says.
"The play stars seven Aboriginal women, which itself is really exciting – I had a gorgeous cast of strong black women."
Andrea says it was a "moved reading" at the National Play Festival, which is an annual event that attracts theatre representatives from around the country.
"The actors read from the script but small parts of it were also acted out," she says. The director was Leah Purcell and Andrea was delighted to work with her on the project.
"She is just a dead-set legend. She has such a depth of experience as an actor. It is great to work with a director who is also an actor because they just know instinctively what needs to happen. She pushed me into areas where I needed to see what was happening and maybe that I was avoiding," she says.
"It was also just great to have an Aboriginal writer and director, as well as seven Aboriginal women on stage. We did not have to do any cultural translating because we were all Aboriginal women."
Andrea is well qualified herself. She graduated from La Trobe University with a Bachelor of Arts in Drama in 1991 and went on to complete a Bachelor of Dramatic Arts at the Victorian College of the Arts in 1996. Most recently, she co-wrote Corranderk: We Will Show the Country with Giordano Nanni produced by La Mama and Ilbijerri Theatre, but she is also known for writing and directing Yanagai! Yanagai! – a play about her father's people, the Yorta Yorta, and their struggle for land rights' justice. She was also the Artistic Director of the Melbourne Workers' Theatre from 2001 to 2008 and the Aboriginal Arts Development Officer at Blacktown City Council. She is currently an Artistic Associate for Playwriting Australia.
Andrea is passionate about getting Aboriginal voices heard.
"My writing has given me a link to my people in a way that I could never have imagined. Our words, our stories and our experiences are so important. In our community, with words and writing – people are a bit intimidated by them.
It is like singing. If you can talk you can sing. If you can tell a yarn you can write, but it took me quite a while to get that confidence," she says.
"With writing you have to keep going back to the storyboard. Re-drafting is a process – each time you come back to it you have more wisdom about it. My family's stories are the stories that I am telling, but it doesn't mean I shouldn't do it (re-draft) if I make a mistake. Making mistakes is what learning is all about. As I get older I get more comfortable with the process of making mistakes, so my advice to younger writers is just do it."
She says the play needs a bit more work before getting a theatre company onboard.
"The project needs one more development before it is stage-ready – then we'll try and sell it to a company and an arts organisation who will hopefully take it on and invest in the production," she says.