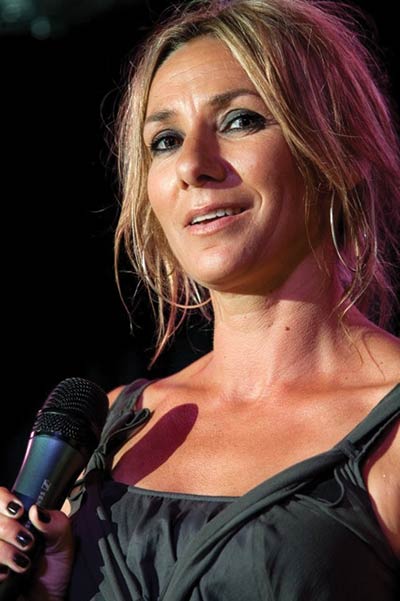 One of the highlights of this year's Message Sticks Festival at the Sydney Opera House was the staging of Tammy Anderson's one-woman play I Don't Wanna Play House. After touring the world for 13 years, it was finally staged at 'the big house'.
I Don't Wanna Play House debuted at Playbox (Malthouse Theatre, Melbourne) in 2001 and has toured across Australia, as well as overseas to Ireland, Hong Kong, the Philippines, the United States and Canada. Such is the play's power and emotional engagement that it is still going strong 13 years after its premiere. Its creator and star Tammy Anderson is not surprised at the longevity of the play. She says the themes running through the play are still relevant.
"When I was writing it, I didn't imagine that it would be going this strong 13 years later – not when I set out to create the work – but I have been overwhelmed at the response. Child abuse and domestic violence is happening every day and it is such a huge epidemic that I think I will be doing the play for a long, long time," she says.
She reckons the play resonates so much because it has emotional truth at its core. "I am telling truth. It is the way I present the work – it is quite unique and different. It is also in my training – one woman taking an audience on a roller-coaster ride with her skill and craft. I continue to love the work so much. That is why it continues. If I left it to other people it might get shelved," she says.
"As an artist, we want to share or present works that penetrate the hearts of audiences and make a difference in the world and this is one of those works. It speaks for itself. It is my legacy and I am very proud of it."I Don't Wanna Play House is Tammy's dramatised memory of a childhood and adolescence marked by male violence – most notably at the hands of her "battling" mother's various boyfriends.
She says the play has changed a bit from when it first appeared, with Tammy now directing it and also performing it as a solo show, without musicians.
"I am directing myself now, but I think the work has got deeper and stronger. I used to worry about how I was affecting an audience – but now I just give it all and it gets better and better. It is like someone singing their favourite song – like Keith Richards and Mick Jagger singing their favourite songs – they just keep getting better and better," she says.
Tammy says she has always been a storyteller."I was one of those kids who used to get the snotty-nosed and bird-nested hair kids together and sit them on my front lawn and entertain them by telling them stories. There was always fighting and some crap going on behind doors, so it got them away from that for a bit," she says.
"I'm also the life of the party – I love sitting around and making everyone laugh by having a yarn or two. I was born into it."
Tammy grew up in Tasmania but "escaped" from there to Melbourne where she did a variety of jobs. She first became involved in theatre after attending an Open Day at Swinburne University.
"There was an ad in the paper about an Indigenous theatre course at Swinburne University. I went in on Open Day and met mobs from all over and I said: 'I can do this' – so I educated myself. I met John Bolton and I won the first scholarship that was handed out and that got me a full year of tuition at the exclusive theatre school and the rest is history," she says.
Amid all that, she was also a hairdresser, sales assistant and a barmaid: "I was a great barmaid," she laughs.
"These things feed into what I do – the stories and the characters. You don't sit around waiting for opportunities – you have to get out there and make it happen and you have to keep yourself busy."
In 2007, Tammy wrote and toured another solo show called Itchy Clacker as part of the Melbourne International Comedy Festival. She has also toured in the play Stolen and appeared in the film Boxing Day.
Other projects she has on the boil at the moment include writing a children's book and a new theatre work.
"I am writing a children's book that will go into schools right across the country. It is about a little girl who is growing up in a dysfunctional family. My main character is a little girl who has black and white on both sides and three dogs that she goes on adventures with, and she has a broken-down car on the lawn – it is how she survives each day," she says.
Regarding the new play she is writing, she says it will be about her experiences in taking I Don't Wanna Play House around the world.
"I can tell a good yarn. Everyone is predicting it will be the aftermath of I Don't Wanna Play House – everyone will think that she fell in a few holes and got herself out again, but for the last decade I have been travelling the world with this work.
"I have been in Indigenous communities and to countries that don't speak English and I have sat around many watering holes, whether it be outside or in a pub – and the larrikins I have met along the way all have a story to tell and I want to share those yarns," she says.
"I don't like to hurry things – give it three years. I want it to be great."
Tammy is also kept busy as a mum of three kids.
"I am a mum, as well, of three kids, a 21 year old, an 18 year old and a seven year old. They keep me busy. I am growing pumpkins and sunflowers and strawberries at the moment."
She also enjoys community work, whether it be in prisons or schools.
"I just did an audio recording of a Bev Murray book – a lot of our men and women can't read and write – so that project has gone out to homes in Victoria. That is very rewarding, when you do that and know that you are assisting someone with their learning. I just love community projects. That's what I'm doing it for: trying to make our mob stronger and give them a bit of hope. If I can do it, they can do it," she says.
"I have also been teaching on my travels, sharing how I put my work together. I did a storytelling workshop in prisons and universities in Canada and the US. Later this year, I am going to an artist's residency to teach primary school kids about storytelling – they have based me in a school for a term, which will be really lovely."
Her advice to young people interested in a career in theatre is to "have a go".
"If that is your dream go for it. Don't let anyone else tell you different. If that is what your heart desires, have a go," she says.
After the Opera House performances, Tammy is taking the show to Port Macquarie, as well as Cairns and also maybe a few shows in the Top End. However, she says her days of touring constantly are over.
"I went on the road for eight months and it knocked me over. I am 44 now. I have to slow down. But I will do one-off shows. And saying that, I would love to hit the big stages of the US or the UK – they need to hear our stories and I want to go to the UN – absolutely – I have been saying this forever," she says.