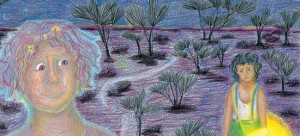 Aboriginal artist Fern Martins helped set up Boomalli Aboriginal Arts Cooperative in Sydney and has been holding her own exhibitions since the age of 19.  Her most recent illustrations are for the book Bubbay: A Christmas Adventure, a children's story about self-discovery and friendship.
Fern Martins is a Ngarabul woman from NSW. She is an artist of extraordinary range and experience and has worked as a sculptor, printmaker and artist in various mediums. She was educated at Sydney Girls' High School and completed a Bachelor of Arts at the South Australian School of Art.
Fern says she started drawing when I she was a child: "My nanna used to embroider and she used to encourage me to draw. She used to buy me those Little Golden Books and pencils and little covered notebooks for me to draw in. They were wonderful."
She says she always had a connection to the bush, despite being raised in the city.
"Nan would take me to visit family in the country, but I was a city-slicker. That ability to paint bush scenes comes from the old folks. My friends used to get me to paint bush scenes on their windows, even though I was a kid from the city," she says.
Fern launched her artistic career at the age of 19 with her one-woman sculptural exhibition under the direction of curator Noel Sheridan.
"An art teacher at high school noticed I had ability. Then I went to study at East Sydney Technical College and I used to do life-drawing classes. Then I studied at the South Australian School of Art," she says.
"I had my first exhibition at the age of 19. Noel Sheridan was an inspirational curator. He took me under his wing and let me have free range."
Fern has also exhibited her 'Land Rights' prints at the National Gallery. Fern's activism for Aboriginal Land Rights during the 1980s raised funds for emerging Land Councils. Together with other young Aboriginal urban artists, she started Boomalli – the first Aboriginal Artists Cooperative – in Sydney in 1987. She also assisted the Sydney community to establish art programs for Aboriginal Cooperatives and lectured at the University of Adelaide.
"We got it (Boomalli) together and the others came with us. There have been some wonderful people there over the past 25 years that have kept it going. Over the years, I had two kids with special needs, so I didn't follow through, but they have always been wonderful in including me in their anniversary shows," she says.
Despite being so instrumental in the development of Aboriginal art in Sydney since the 1980s, Fern has maintained her independence as an artist.
"I am a very independent artist. I don't like sitting under the gallery system. I do my own travelling shows in communities, libraries, churches and community centres," she says.
She says she is always keen to help other artists and authors.
"I am contributing further illustrations to books at the moment. I enjoy this work, especially if they have storylines that are close to my heart. I always want to close that gap. That is one part of my travel. The other part is spiritually based work using landscapes and illustrating scriptures," she says.
"When I illustrate the work of others I just want to make them happy and proud. I want to give them the best. It is challenging but I really love it.
"It is very hard to survive as an artist, but I am doing my best as an artist. It is a tough journey but it is great. I am not good at anything else."
Bubbay: A Christmas Adventure, written by Josie Wowolla Boyle, is the story of a boy who lives in the outback and spends his days protecting a herd of goats from dingoes. It is a hopeful story full of magic, combined with Fern's richly textured illustrations of Australian plants and animals. The book offers a glimpse of how the natural and spiritual worlds can intervene to make ordinary lives better.