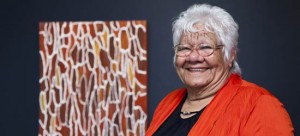 Muthi Muthi Elder Barb Egan has spent most of her life along the Murray River at Robinvale. As such the Murray holds a special place in her heart, which she expresses in a new exhibition called River Woman, now on at the Bunjilaka Aboriginal Cultural Centre in the Melbourne Museum.
Aunty Barb Egan is many things, an Elder, an artist and a passionate footy follower, but it is her art that is drawing attention at the moment – courtesy of her first major exhibition in Melbourne.
Aunty Barb's journey as an artist has spanned 40 years. Her experiences growing up on the Murray in Robinvale play a central role
in her art – reflecting the spirit of this environment that continues to move her.
"I was born on the banks of the Murray River and I can still remember Dad carrying me on his back when I was younger," she says.
"The banks were our playground. We played hopscotch and would make trolleys and stilts out of the old sunshine milk tins. We also used to get the sweet honey that fell from the beehives in the trees – droplets would fall to the ground and we would go and lick the bark or leaves and pick up the droplets with a stick – they were our lollies. They were good times here on the river. I don't think I'd ever leave Robinvale. I've got the river – it's my home. I just love it here."
Aunty Barb was at the exhibition opening and says she was a bit overwhelmed by it all.
"It was huge, I could not believe it. I have been creating these art works for many years. I usually work in a big dusty shed and the paintings go under the table and in the store shed and they have cobwebs on them and all sorts of things and now they are hanging in Melbourne in a beautiful gallery."
She has about 30 works in the exhibition that all express her longing and spiritual connection to the river. They include embossed line work, lino prints, acrylic painting and sketches.
These art works come out of a collective art practice she has created in Robinvale called Miss Emily's Shed.
"We needed to fill the gap here that came about when the CDEP (Community Development Employment Project) stopped, so I got a loan from the state government and I bought all the kilns – because we do pottery here too – and the paint and we set it up. It started out in my bungalow over 14 years ago," she says.
She produces work in the shed together with talented friend Thomas Tamock, known as M. Mok, who collaborates with Aunty Barb on many creative projects. The Miss Emily products range from handmade and painted ceramics, paintings and lino prints to beautiful hand-painted silk scarves and greeting cards, all designed by Aunty Barb and Tommy and sold throughout Australia.
Starting out with only a small bench space in a shed a long time ago, it has now grown into two large sheds, one which is a studio and the other a gallery space. It has developed into a community meeting space and Barb is also helping other artists get established.
"I am trying to help the young artists and young women coming through. We will be holding an exhibition of their work here in the shed soon," she says.
She is also a mad footy fan.
"My son used to play for Richmond. I will watch it Friday, Saturday and Sunday if it is on. I watch it with my grandson," she says.
She also designed the footy jumpers for the Indigenous team, the Robinvale Football Club.
River Woman is on at Bunjilaka Aboriginal Cultural Centre, Melbourne Museum, Nicholson Street, Carlton from 17 February to June 2012. Adults $10, children and concessions free.
For more information visit http://museumvictoria.com.au/river-woman/