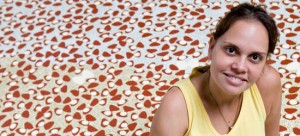 Lisa Michl draws on her homelands and her culture for inspiration. Her work is known nationally for its beautifully coloured earth tones and the intricate marks or lines that form delicate yet often bold designs.
She describes her art as a way of mapping country, and of sharing the knowledge of significant places and stories passed down by her ancestors. Her work speaks strongly of strengthening culture and the importance of maintaining the connections to country, lore, ceremony and language to succeed in a contemporary world.
Lisa has been exhibiting her fine art paintings since 1993 and has had more than 12 solo exhibitions throughout Australia, but when asked what her most successful moment has been, it's not the exhibitions or her reputation as an artist – it's the journey she recently made back to her homelands in the Western Cape York Peninsula with her young daughter.
"She was given a totem name by her grandfather and now she is experiencing her connection to country and her extended family – that is a highlight for me," Lisa says.
A Kokoberrin woman, Lisa began painting when she was 15 years old. Her mum encouraged her to continue and she attended TAFE where she graduated with an Advanced Diploma in art.
"I'd describe my work as acrylic on canvas and abstract design. I paint a lot of my people's stories and that way they get recorded and documented for the next generation," she says.
Indeed her mission is "to value, respect and share my Aboriginal culture by passing down stories and traditions that educate people about the history of our Kokoberrin people."
"Since colonisation, most of our land is occupied by pastoral companies, who don't let us access the land and this has resulted in our culture being lost. We have on our homelands several sacred sites, burial grounds and scar trees – many significant sites with no access to them and that limits our ability to pass culture down," Lisa says.
Aside from her art and family, Lisa is passionate about helping other Aboriginal artists develop their skills. She is a founding member of Umi Arts, the peak Indigenous arts and cultural organisation for Far North Queensland.
"Umi Arts has around 600 Indigenous artists as members from Far North Queensland. I am co-chair and my role is to liaise on governance and our operational plan. We market and sell works overseas, develop the skills of our artists and create quality products to showcase, which provides the opportunities to sell artworks," Lisa says.
"I'm also in the process of re-establishing Kokoberrin Aboriginal Corporation. It used to be a very successful organisation, preserving our oral history with mapping and ranger programs, but the key directors have gone off on other pathways."
With family and community commitments, Lisa's time is precious.
"I'm happy to be able to get some lino cuts out and etchings, but I'm really keen to paint. I have these ideas for works, probably a few too many. What I'd really like is a dedicated studio space and leave my work out to reflect on it."
Her advice to young artists is to get good business advice early in their careers. "It will save a lot of time, and also to draw on good mentors, so that they can develop where they want to go."