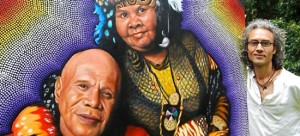 In his art, Jandamarra Cadd seeks the universal expression that "binds us together as humans."
As a result his stunning paintings have found favour with varied audiences across the country and are even on display on the walls of the Attorney General's Department in Canberra. He combines traditional Aboriginal art with modern portraiture to achieve his own unique and inventive style of painting.  For Jandamarra painting is a way of life that enables him to maintain a grounded connection to his Indigenous heritage and a spiritual relationship to his ancestors.
Jandamarra began painting as a troubled teenager and says his art has allowed his true passion to come out. He is now achieving great success with his work but he remains humble, saying his greatest reward is evoking emotions in people.
"I had a troubled youth and couldn't express myself appropriately academically or verbally, so I was introduced to a paintbrush at the age of 15 and I've never stopped painting since," Jandamarra says.
"It has helped me come out of my shell. Without my art I would not be able to move around as much as I can in the world. It's the same with people who feel they need to dance or sing or make a movie. If you take away the dance from our people they end up withering inside."
He calls his style of painting "Unified Art" and says it is about bringing people together through awareness as well as dealing with a lot of social issues.
"It is the expression of universal fundamentals that bind us together as humans, while still celebrating our diversity as expressed through culture, race, gender and age," Jandamarra says.
Jandamarra's work called "United Journey" is hanging in the foyer of the Attorney General's Department in Canberra. It won the 2007 Indigenous Employees Award and was purchased by the Attorney General's office. His winning artwork was also used in multiple government publications. "It was part of a nationwide competition – reconciliation was the theme. I use a lot of images of children in my work because children draw on that space in us that is innocent – beyond culture, gaps, racism," he says.
"Children are the central focus of that painting because all of those things that happen on the outside need to be healed and we need to go to that place within us that is before European people and beyond problems to find solutions.
Jandamarra is happy with where his career is heading at the moment.
"Selling paintings is great for paying bills but the real reward is seeing people coming along and being empowered, like when you watch a movie that draws something up inside you and you can feel the passion inside yourself growing," he says.
"People have come along to exhibitions and then felt empowered to go along to their communities and address such issues or heal those parts within themselves."
Jandamarra, 38, is from the Sunshine Coast of Queensland, where he works as an artist and art teacher, but he is a proud Aboriginal man from the Yorta Yorta people in Victoria.
This month, Jandamarra is exhibiting a unique collection of portraits of Aboriginal and Torres Strait Islander role models.
The exhibition, called "Past.Present.Future" opens on 16 March 2012 at Koorie Heritage Trust Gallery, 295 King St Melbourne, and it consists of 16 portraits that celebrate Aboriginal people "who have been inspirational and reflect the power of positive decisions in the face of adversity". It continues until 1 June.