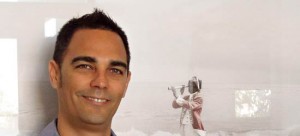 Sunshine Coast artist Michael Cook has just won this year's Deadly Award for Visual Artist of the Year.
Michael's work is noted for its re-interpretation of colonial Australian history from an Indigenous point of view, and while his work has sometimes been controversial it is always beautiful.
He is an artist with a unique photographic
and storytelling style.
"I am dealing with stuff that could be looked at negatively – with white settlement issues – but I want to try and bring it across in a beautiful way so that everyone looks at them and forms their own opinion.
Michael, 43, says he is constantly surprised by what people find in his work.
"A few people say the work has an edge of beauty. Some go so much deeper than I imagine into my own prints. I love to hear what they have to say. They are telling me stuff that I didn't realise. I am continuously learning about my own work."
He says winning his first Deadly in 2008 inspired him to become a full-time artist.
"I got a bit of notice from winning the first Deadly and it created some attention for me and my work. I wasn't 100 per cent into the art industry then, but winning the Deadly gave me the confidence to go full time, drop everything else and not do commercial work anymore.
"I got a lot of confidence after winning the award and I just thought stuff it – let's just go for it."
Michael had his first solo exhibition called 'Through My Eyes' in 2010 with Andrew Baker. Some of his works have since been acquired by the National Gallery of Australia and many private collectors.
His other projects include 'Undiscovered' (2010) and 'Broken Dreams' (2010); both series consisted of 10 large photographs that illustrated narratives and examined historic and contemporary relations between Indigenous and non-Indigenous Australians.
Since then, he has been included in the WA Indigenous Arts Award (one of 16 finalists). He is also in next year's National Indigenous Art Triennial at the National Gallery (one of 20 artists). This will be one of the biggest Indigenous art shows next year.
Michael says he is having his first solo show in Melbourne with the Dianne Tanzer Gallery in May next year. He is also working on a new project at the moment called 'Stickman', which is based on old rock and cave paintings.
"My work has always been around the colonial ties of the past, so the new stuff I am doing is the same basic idea but in a different time era – more in the Mission times of the late 1800s through to the 1970s. It is still about white settlement," he says.
After winning this year's Deadly Award, Michael was worried about whether he could take it back with him on the plane.
"I worried after the awards whether they were going to let me take the award on the plane home. It's quite pointy and had to go into my hand luggage as I wasn't letting it out of my sight," he says.
Michael says he explores his own Indigenous history through his art.
"When I produce art I feel a stronger connection with my ancestry. This helps me to understand Australian history and, in particular, my history. Each new project introduces me to different communities and people, and I get to learn a little about their life experiences," he says.
Accepting the Deadly Award on the night, Michael thanked his partner, Monika Selig, for her continued support and his galleries – Andrew Baker in Brisbane and Dianne Tanzer in Melbourne – as well as Vibe Australia for "putting such a Deadly show together."