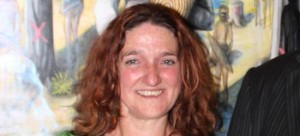 Darug woman Leanne Tobin is the winner of this year's NSW Parliament Aboriginal Art Prize with her moving symbolic work, Defending Country. It is the richest Aboriginal art prize in Australia, with a main prize of $40,000.
Leanne's beautiful work Defending Country depicts a pale-skinned, blue-eyed woman holding a shield against the backdrop of the land and her spectral ancestors and waratahs. Also in the painting are crosses on scar trees, which denote trees that are going to be cut down. The ghostly ancestors include Yarramundi, one of the first Aboriginal men to meet Captain Arthur Phillip, and his daughter Maria Lock, the first Aboriginal woman granted land in NSW, standing by Leanne's side.
"Today the colour of the traditional people's skin may vary, but the woman's story and her connections to country continue to run deep," Leanne says.
"She is a traditional custodian positioned amidst her ancestors, those who have passed and those who are still living. Waratahs were traditionally given by Darug people to settlers who treated them with kindness and respect. It is totally symbolic. It says we, the Darug people, are coming together now. We welcome people. We don't want to fight. We just want people to acknowledge us and accept us.
"It is life changing, not just for me but also for Darug people. We have been working to try and get recognition in our country and to have this painting now in Parliament House has such significance for us. We have had people in the mountains crying with happiness over it. It is a really big win for Darug people."
Leanne says a lot of her work is about re-establishing the place of Darug people in Sydney.
"It was the central point where the stone was thrown into a pond and the ripple effect has gone out through Australia. In Sydney is where it happened first.
"People don't know the Darug history. I didn't care about history when I was young, but as you get older you find that history tells you about yourself and who you are. I used to be a primary teacher. I used to explain to kids that what they were living now would be history for people in years to come.
"As Darug people we have tried fighting. That doesn't work. It divides us. We have found by educating ourselves and sharing what we have learnt it really helps everybody step forward."
Leanne says she has become a custodian of Darug history through coincidence and following her own intuition.
"I taught in NT for 13 years in Jabiru,I was welcomed into a skin up there. I remember an old Aboriginal woman poking me and saying, "you're not all white". I was working as an Aboriginal Research Officer when I was told about my own ancestry and it blew my mind.
Leanne says she enjoys working as an art teacher in jails.
"I have a strong sense of social justice. I now work in jails as a Koori art teacher.
I have seen incredible things inside. I get prisoners to work on stuff that tells their story because art is a healing thing."
Her message to young artists is to "be true to yourself – but paint with a story in mind."
"When it has a story it changes how other people see it. People read those stories and they remember them. If you are a young artist, use ideas from other people and develop your skills and techniques and grab every opportunity that comes along."