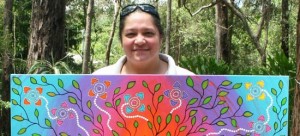 An award-winning Aboriginal artist, De Greer-Yindimincarlie hails from Wiradjuri country in central western nSW but now lives on the Sunshine Coast, qLD. She has an impressive body of work, spanning 20 years, which she sells worldwide. DE'S ARTWORKS ARE Inspired by everyday occurrences, AND THEY incorporate BOTH modern and traditional Aboriginal colours and techniques.
De started her artistic career as a musician, then worked for many years as a graphic designer and is now a world-renowned Aboriginal artist.
She works in many mediums, including visual arts, music, graphic arts and film. She is also a workshop facilitator and mentor who runs arts-based programs with young Indigenous people.
"I guess at the end of the day, I want to give people an experience – through me and my music, painting, public speaking, graphics, workshops and films – that they can not get anywhere else," De says.
De decided early on that she would have to be multi-skilled to survive as an artist.
"My mum was a potter and painter, so I knew to have a sustainable future in a creative industry I had to work across different mediums and I had to be multi-skilled, financially, for my business to support what I do," she says.
Painting was her first love and she draws inspiration from various sources around her.
"The paintings are part of me. My world is full of colour and excitement, shapes and textures, and I use them in my painting and my graphic art as well.
"Painting is a way to tell my story – to say how I feel through shape, colour and texture. There are no rules in art – that's why I love it."
De says feelings are less questioned when they are presented in a painting.
"When verbalised, feelings can be questioned. I have found that people are less likely to do that when it is in a visual art form – they just accept it or don't know what questions to ask."
Her favourite medium is acrylic paint.
"I love the textures that you can get with using acrylics. I don't use oils because they take too long to dry and become quite muddy if you blend too much. I love to paint on canvas because it is so diverse and it is very pliable and resilient at the same time.
"I also like to experiment with different techniques in my art. I like using different substances in my paint like impasto or sand and sawdust. I also like to use liquid latex in my work at times to create interesting patterns."
De hopes her art connects with people.
"I think in today's society that people sometimes are too distant from themselves and what is happening around them, so with my work, and all that I do, I want people to experience emotion from seeing and hearing it."
Music is also a big part of De's life, having been a professional musician for many years.
"I retired from music for nine years and substituted one creative addiction for another with painting. But I took music back up a few years ago. I have another band together and have brought out another album and created a recording studio where I record other artists and mentor other artists."
One of these young artists is Eliza Allard, now 16 years old, who De first heard at the Bunya Dreaming Festival. Eliza won a Maton guitar at the festival.
"I thought she was brilliant. I have produced her debut album and made a film documentary of it called The Bunya Guitar," she says.
"Eliza is now playing lots of gigs. I keep in touch with her and see how she is going. She brought recording equipment from me and is recording her own stuff now."
De is also passionately involved in helping other young people through her music and art.
"I developed a nine-week program for a mob up here called United Synergies, who deal with youth who are classed to be 'at risk'. They come to me one day a week. I teach them music history, songwriting, composition and lyrics, and they write a song and record it. The song, 'Mixed Emotions', is on YouTube. They were stoked with their involvement with this program," she says.
She is running a series of workshops next year for 20 kids to go through a similar process and record their material that will culminate in a local festival called Booin Gari. She is also mentoring six young Indigenous people in a dance group called Level 6, as well as conducting art workshops in schools.