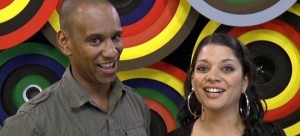 Move It Mob Style®, Australia's latest dance-based youth, health and fitness television show is bursting out of TV screens to showcase young Aboriginal and Torres Strait Islander people's culture through dance and music WITH DEADLY BEATS TO get you up off the couch and moving.
In fact, that's what Move It Mob Style® is about, good beats and using dance to stay happy and healthy. Shot on location in 16 communities around Australia, the audience gets to see some of the dance moves found in these communities as well as the unique stories they have to tell – from fishing for barramundi to gathering bush tucker, traditional language and riding the waves at a surf school.
Australia's top Indigenous dancers appear in the show, and dance routines are accompanied by some of the best music artists in the business, and there's plenty of up-and-coming new talent too. Over the series, 16 different Aboriginal and Torres Strait Islander groups are profiled, and all the music in the show is created by Indigenous artists.  Move It Mob Style® dancers perform to over 60 original tracks by artists including the Street Warriors, Briggs, Maupower, Stunna Set, The Yung Warriors, Dubmarine and The Last Kinection.
In each location, trained dancers Albert David, Ghenoa Gela, Sani Townson and Medika Thorpe work with a local host to guide the audience at home through the different routines choreographed by the local community visited. The show is hosted in the studio by hip hop great Brothablack (aka Shannon Williams) and Naomi Wenitong from The Last Kinection.
For former Bangarra dancer Sani Townsend the chance to work on a show that showcased local dance was important.
"There is real talent out there and we get to see that on the show. I was impressed with it and Move It Mob Style® is a great platform for them (local dancers) because I know they will go on dancing. When we were working with the local community you would see these kids have an 'ah ha' moment and you knew that when we left the communities they'd still be dancing," Sani says.
"They knew they could dance but when we were there they had someone there to say 'you're really good and you should take it further'."
Travelling to each community was something that Sani enjoyed, and seeing the barriers that Move It Mob Style® was capable of breaking down.
"You got to meet other blackfellas that shared the passion and there was no shame. There are also health benefits in what we are doing and the viewers will get that benefit. Move It Mob Style® is about being active, moving and getting that heart rate up."
Dancer and choreographer Albert David agrees viewers have the chance to get fit and healthy from following the dance routines on the show.
"We have so much fun and it's a deadly concept to visit the different communities and show their dances – not only for our mob, but for everybody as well," Albert says.
"They'll enjoy getting up and dancing, you know if you move it, you lose it and the movement in the dances on the show is easy. So no matter what, you will get a workout by the end of the program and you can keep doing it by recording the episodes and learning the dances. Wouldn't it be something if everyone learnt the moves – including Barra Fishing, Making Fire with a Stick, Boomerang Throwing, Shrug them Haters Off and Reach for the Stars."
Every community visited had a different style of dance.
"There are some really deadly styles and I didn't have to do anything, they (local dancers) did it all. There's just heaps of talent out there," Albert says.
"Dancing and music is part of culture and Move It Mob Style® is a way of expressing culture.
"It [dance] is very important in every way and I was always dancing when I grew up – dancing and listening to music plus the dancing in our ceremonies."
Move It Mob Style® studio host Brothablack (aka Shannon Williams) says anyone will be able to dance to the routines on the show, as the show caters to all standards of dance proficiency.
"It offers a lot and there is also some great information about healthy living and leading a healthy lifestyle. Watching and dancing to Move It Mob Style® is a practical way to do this," Shannon says.
"There is a diverse mix of dancers on the show and you don't have to conform to one style. The show also showcases the up-and-coming talent of artists that are coming through.
"And culture is a big element of the show through dance and music – that's the way we tell our stories and most of all Move It Mob Style® is about having fun and healthy ways to do it. With Move It Mob Style® audiences get to see this on TV in their lounge rooms. Before long they'll be up off their couches and busting some moves with us."
Move It Mob Style® has been produced with support from the Australian Government, through the Department of Health and Ageing and will air on ABC3 and NITV this month.