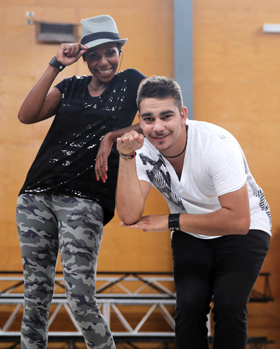 Move It Mob Style® Series 3 was launched yesterday in Sydney, kicking off a new season for the popular dance-based youth, health and fitness TV show on NITV from 12 August and ABC3 from September.
Dancers, producers, media and the show's crew attended the launch at the Chauvel Cinema in Paddington to preview the first episode and celebrate a successful production wrap. Executive Producer Gavin Jones thanked all involved in the making of Move It Mob Style® Series 3.
"Each and every dancer 'brought it' to the show, as did our hosts Naomi Wenitong and Brothablack – with their choreography, their dance style, their personalities and professionalism," he says.
"Thank you to the Move It Mob Style® production team and the Deadly Vibe team for their hard work on the show. And thank you also to NITV, ABC and the Department of Health and Ageing for supporting the vision to fuse dance and music to deliver health and wellbeing messages to our young people."
Co-host of Move It Mob Style®, hip hop star Naomi Wenitong from The Last Kinection is back for Series 3. For Naomi, the show provides an important platform for Aboriginal and Torres Strait Islander dance and music.
"It gives a voice to our music – it's like a stage for musicians, and for dancers to be creative and perform at the highest standards. It's an important foundation for music, especially hip hop because it's not the most liked or accepted genre in the mainstream, especially Australian rap," Naomi says.
Dance host on the show, Shari Togo, is one of three dance hosts, which includes seasoned performer Darren Compton and the multi-talented Ryka Satrick. Shari believes dance is one way to build self-confidence and stay fit.
"Dancing together builds confidence, so if we'll all out there dancing – it's a big confidence booster."
Shari's looking forward to Series 3 and the audience participation in the dance segments.
"It's going to be good; it's going to be exciting. There's lots of new routines coming and they're a bit more challenging, but I think everyone's up for the challenge."
To accompany Series 3, a new Move It Mob Style® website has been developed on www.moveitmobstyle.com.au. Dance segments, school lesson plans and information on the dancers and music used in the show, is available for viewing and downloading.
For more information on Movie it Mob Style, head to www.moveitmobstyle.com.au, search for Move It Mob Style on Facebook, follow us on Twitter or watch us on YouTube
For all media enquiries, including image requests or interview opportunities, please contact Maryann Weston at Vibe Australia on (02) 4822 8230 or email [email protected].