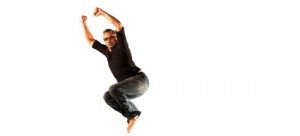 Acclaimed Indigenous dancer Gary Lang has just been named as the recipient of the Australia Council for the Arts' Dance Board Fellowship – a prestigious $100,000, two-year grant. Gary says he will use the opportunity to continue working with communities in the Northern Territory, and develop his own dance works. It will also allow him to collaborate with dance companies in New Zealand and Western Australia.
The Fellowship recognises the contribution Gary has made to Australian dance, in particular his passionate promotion of contemporary dance, which is rooted in the traditions of Indigenous Australia. It is also the first time the Dance Fellowship has been awarded to a Northern Territory artist.
A Larrakia man, Gary is an accomplished and widely respected dancer, performer and choreographer. Since training at the National Aboriginal and Islander Dance School (NAISDA), he has toured across Australia and overseas with premier dance companies such as Bangarra Dance Theatre and Dancenorth.
For the past decade, Gary has been working with communities in the Top End of the NT, making a vital contribution to local dance and unearthing a cache of Indigenous talent. He has been humbled in receiving the Fellowship.
"With this acknowledgement, I feel like I have been blessed. To be acknowledged by the Australia Council – the mainstream – to get this for all the work I have been doing in Darwin is a blessing," Gary says.
"When you are struggling there are times when it gets to a point where it seems so impossible to do it, but receiving this fellowship has made this possible. It has made it possible for me to work on my own choreography and has given me an opportunity to go to New Zealand to work with the Atamira Maori Contemporary Dance Company in Auckland and Ochre Contemporary Dance Company in Perth.
"The collaborations are about making things possible.
Going to other theatres and seeing how they work and asking what they would
like me to do. Just talking to people about what's happening. It also allows me to continue my professional development as a dancer and choreographer, as well as being the director of my own dance company."
Gary remains based in Darwin as he prefers to work within his community and the natural environment that inspires his work.
As part of the Fellowship, Gary will further develop his work 'Mokoi', which explores suicide and its impact on spirit, family and community. In doing this, Gary will spend extended periods in Arnhem Land with his family's Yirrkala community. There, the artist will re-connect with his Elders, deepening his understandings of the community's stories and learning more about traditional dance forms.
"I am going out to the communities – Yirrkala and Maningrida. Mokoi means spirit and the soul's travelling. It is a bit dark and sombre but hopefully a healing tool as well. It came out of a spate of youth suicides in the Territory – one was my nephew and one was my niece recently. There has been a ripple effect through the community," he says.
"So I hope this dance has a healing effect. The choreography is in your face at the start. If I was to present Mokoi in communities, I would be checking to see who I can talk to, etcetera – it just wouldn't be going out dancing and making people feel sad. I would also take information from NT Health and Mental Health with me whereas in the main theatres, I just hope there is a lot of healing with it."
Gary says dance and health are linked to spirituality.
"Dance is about getting into the higher self – you invoke spirit or become that spirit. That is what dance does. It puts you in that zone," he says.
He has recently launched his own dance company – Gary Lang NT Dance Company. The company's main goals are to develop quality dance productions, to nurture talent, as well as the art of dance.
"It is an association, non-profit organisation, we are able to auspice our own money. It has taken me 10 years to get to this point. But I am in it for the long haul," he says.
"I am at a time in my work when I need to extend my dance world. The Fellowship is a truly life-changing event. It will breathe new life into my career and fuel my creativity, giving me the freedom to take my skills to the next level. I am grateful to the Australia Council for making this opportunity possible."
His advice to young dancers and artists everywhere is to "hang in there."
"You give your soul to the arts. You give everything of yourself when you are dancing and with your art. Sometimes there is a big return, sometimes there is a little return, but don't give up. Just keep going," he says.
"My mother used to say to me: "Whatever you do – what people think of you is none of your business. Stick to your guns."
Performing Arts Touring Manager for Artback NT, Angela O'Donnell  says she is thrilled that Gary has been awarded this grant.
"We share his commitment to building the sector here and to ensuring Northern Territory stories are heard and celebrated. Gary is a treasured NT talent and a generous and passionate artist who has thrived on the opportunities that have been offered to him so far. We look forward to supporting the next exciting chapter in his artistic development," she says.
The Australia Council's Dance Board provides one fellowship grant per year for an established artist who has an outstanding record of achievement.
Dance Board Chair Elizabeth Walsh was delighted to announce the grant.
"The Australia Council Dance Board is pleased to acknowledge Gary's outstanding contribution to the dance sector. The Fellowship will take his practice to the next level, providing invaluable opportunities for Gary to learn as an artist and build on his already substantial body of work," she says.