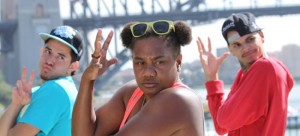 My Name Is…
Ghenoa Gela (Move It Mob Style® host dancer)
My Job Is…
I call myself an independent artist – dancer, musician, actor…
My mob Is…
My totem on mum's side is crocodile from the Koedal people (western part of Torres Strait); and my dad's side totem is the Frigate bird, the Waumer people (eastern Torres Strait/Darnley Island).
I Live In…
My family is from Torres Strait. I was born in Rockhampton and I now live on the Central Coast of NSW.
Although I grew up in Rockhampton, my Country is the Torres Straits. I went to primary school in Rocky up until 2004-2005 when I moved to Sydney to go to NAISDA.
I studied four years of dance there and it was the first time I got introduced to mainstream dance (ballet, modern, jazz). My traditional Torres Strait Islander dance came from my mum and dad. I've just received a research grant through Critical Path to develop my own traditional Torres Strait movement, combined with contemporary dance (Critical Path is a choreographic research and development centre for dance artists in NSW).
Brief History & Lifestyle…
Growing up was fun and interesting in Rocky. With my parents, my family formed a dance troupe and toured around schools promoting Torres Strait Islander culture, storytelling and dancing. I played a lot of sport when I was back home. All the sports – softball, touch, athletics…I went to state trials for athletics, soccer, and played in rep teams for basketball, netball and beach volley ball. There was not a lot to do in Rocky at that time.
I used to ride around on my BMX with my friends and ride for one hour just to go swimming in a waterhole. We would make up stories and songs … it was a lot of fun.
Rocky was called Rockhampton because there are lots of rocks there. It's Darumbal country and the totem is the green tree frog. I've still got a lot of mates there and my parents are still up there – in fact I'm heading back up there on Saturday.
Description…
I remember when I first went to the Torres Straits. I recall when I went to my grandmother's country, St Paul's Village, on Moa. It was beautiful. The water struck me. My mum used to tell me the water in the Torres Straits turns every shade of blue. I looked at the colour of the water and it was changing in front of me. I could see the water turning different shades. It was phenomenal.