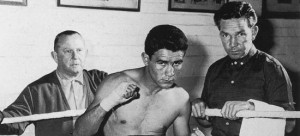 Aboriginal Australia has produced some exceptional boxers over the years, men who have scaled the heights of the sport, winning world titles at home and abroad, but among them, only one man holds the distinction of being both an elite Aboriginal fighter and an elite boxing referee. That man is the late Trevor Christian, who recently passed away at the age of 69 after battling cancer.
Trevor Christian was born in Narrandera, New South Wales, in 1942, when the Second World War was in full swing.
The black settlement where Trevor grew up, behind the Narrandera tip, consisted of bark and tin humpies, which were eventually replaced with houses. The settlement was constantly plagued by flies from the tip, as well as mozzies. Tuberculosis was rife, and throughout his life, Trevor never drank from a mug, because in those early days, the disease was commonly spread from sharing chipped drinking mugs and the memories stuck.
One of 11 children, it was a tough upbringing, and at the age of seven, Trevor moved with family to the Erambie Mission in Cowra.
Also living in Cowra were Trevor's uncles, Clive and Roy Carroll, both noted tent and ring fighters. In those days, it was customary for most Aboriginal men to be schooled in the art of boxing from a young age by their elders.
Under the tutelage of uncles Clive and Roy, all the Christian boys fought as amateurs, and Trevor had his first fight at the age of seven. Trevor's brother Lindsay went on to fight six- and eight-round fights at the famed Sydney Stadium, and Trevor would eventually follow suit.
As a young man, Trevor's idols were boxers Dave Sands, Jack Hassen and George Barnes.
Other fighters living at the Mission at the time included Clive and Teddy McGuiness. Teddy fought under the name of 'Teddy Rainbow'. Choco Ingram was also at the Mission and fought at the Sydney Stadium as a bantamweight.
The Christian family eventually moved back to Narrandera, where Trevor, by then a well-rounded young boxer with a good sense of the ring, continued to box, sometimes in the tents. Back in Narrandera his training was taken over by Keith Reid and Neville Warren.
As an amateur, Trevor was the Riverina Champion in three divisions at the same time – featherweight, lightweight and light welterweight – and also won the NSW Golden Gloves featherweight title.
He came very close to qualifying for a berth at the 1960 Rome Olympics, being out-pointed in a close contest with Australian lightweight champion, Graham Foster.
When his Uncle Roy Carroll moved to Sydney to box, Trevor soon followed and at the age of 17 he turned professional. He won his first 14 professional fights and was never defeated at the old Sydney Stadium. He defeated George Carroll for the Australian junior middleweight title, later losing the title to Rod Kenny after struggling to make the weight.
From 1963 to 1970, Trevor fought on just seven occasions, mainly because he wasn't interested in taking fights on short notice, which was the manner in which fights were commonly offered to Aboriginal boxers at the time.
In 1966, Trevor fought Dick Blair over the 12 rounds in a tough fight, losing on points, and later, he acknowledged Blair as the best fighter he had faced in his career.
He went on to become an influential leader and role model within the Aboriginal community, and he was a much loved and respected identity in the Australian boxing community.
He was the CEO of the Aboriginal Legal Service in New South Wales, and responsible for the amalgamation of six separate legal services into a statewide organisation.
In the early 1970s, Trevor began his career as a boxing referee, and in 1990 he became the first Aboriginal person to referee a world-title fight when he worked the Muangchai Kittikasem – Juang Jae Lee IBF flyweight title fight in Thailand.
Between being a fighter and a referee, all up Trevor laced up the boxing boots for over 53 years – his refereeing career spanned 35 years. He was a competent judge, just as he was a skilled fighter, and he also took his place in various boxing boards across New South Wales.
In a discussion with Des Bloyd, Trevor offered the following advice for young fighters.
"I would like to give young boxers some advice about weight and taking fluid tablets to lose weight.
"I can honestly say when boxing main events, every time I was beaten in a bout I had to take fluid tablets to lose weight. At weigh-in time after losing the excessive weight – to make the weight – I could not replace the potassium in my body to perform 100 per cent.
"My performances were under par as I was very weak. Best advice I can give if you're boxing and have trouble making
the weight: move up to the next division. Being overweight and the battle to make the weight is just not worth it and can become life threatening."
Trevor also trained his son Stan, who fought under the name of Stan Hayes and won the Australian amateur middleweight title, but was tragically killed in a car accident.
He continued to judge until August 2011, the final time working the undercard of the Daniel Geale – Eromosle Albert world-title bout in Tasmania.
On 28 January 2008, Trevor was named in the Queen's Honours List and awarded an Order of Australia Medal for service to the Indigenous community through Sydney Regional Aboriginal Corporation for Legal Services, for the promotion of social justice and also for services to the sport of boxing.
Australia's most successful boxing trainer, Johnny Lewis, remembers Trevor as a man who created new possibilities for Aboriginal people.
"I place Trevor right up there with Lionel Rose and Arthur Beetson with what he achieved through his life for Aboriginal people," says Johnny. "Not many doors were open for Aboriginal people in those days, and Trevor was one of the people who opened those doors."
Trevor Christian is widely regarded as being one of the true gentlemen of Australian boxing, and he was one of the most respected men in the sport in this country. In being the only Aboriginal person to reach the elite level of boxing refereeing, he made history. He was well known for his generosity and willingness to help people.
His funeral was attended by the biggest names in Australian boxing, as well as the many more lesser-known individuals from all walks of life whom he influenced and helped throughout his life. A true legend of Aboriginal sport who will be sorely missed by many, Deadly Vibe salutes one of our most important trailblazers and role models.
Trevor is survived by two sons, David and Grant.
Deadly Vibe would like to acknowledge The Sweet Science radio program and Des Bloyd for contributing to this article.