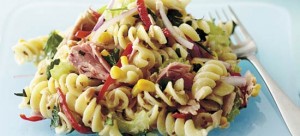 A bright summer's day is a great occasion for an outdoor lunch and pasta salads are delicious, served warm or cold. This recipe includes tinned salmon, which contains a recommended fat that's good for your health and has been shown to help reduce your cholesterol levels.
You can include any ingredients that you choose, really, but this is a tasty combination of vegetables and herbs with an easy dressing. To increase the fibre content, making it even better for you, use wholemeal pasta – it's really delicious!
Serves 4
INGREDIENTS
 500g cooked spiral pasta, cooled
 185g can pink salmon, drained
 2 tablespoons of capers
 1 cup corn kernels
 ½ red capsicum diced
 ½ cup yellow cherry tomatoes, halved
 ½ cup coarsely ripped basil leaves
 1 Spanish onion, finely diced
DRESSING
 2 teaspoons seeded mustard
 2 teaspoons fresh tarragon leaves
 2 garlic cloves, minced
 ½ cup cold-pressed macadamia oil
 1 dessertspoon of honey
 Ground black pepper, to taste
 ½ cup balsamic vinegar
METHOD
1. Break up the salmon in a large bowl.
2. Place all the other salad (not dressing) ingredients in the bowl and mix well.
3. Mix dressing ingredients together.
4. Pour over top of salad, mix well to combine then serve.