It was a night unlike any other we've had in Indigenous or Australian sport. Two Aboriginal boxers, both world champions (one current and one former), facing each other in a legitimate world-title bout.
This was the rematch fight fans have been waiting for, ever since Mundine handed Geale the sole loss of his pro career in a very close fight back in 2009. Since then, Geale has gone on to become the man of Australian boxing, winning two legitimate world titles. No love was lost between the boxers in the lead-up to this one, and the pre-fight controversy only heightened the interest surrounding what was always going to be a sell-out attraction.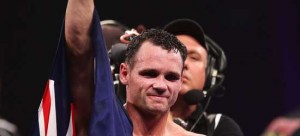 Spectators at the Sydney Entertainment Centre witnessed a historic bout between two sublimely skilled boxers. As was expected, Geale started busy and maintained a frantic pace, while Mundine worked off his jab and looked for an opening to land a knockout blow. Both fighters managed to land the occasional clean punch, but neither found themselves in serious trouble at any stage of the fight. In the end it was Geale's constant work rate that earned him a unanimous points decision victory. Mundine was furious with the decision, believing he had done enough to win the fight and he left the ring immediately after the judges' scores were announced.
''I put things to rest,'' Geale said from centre ring. ''I wanted to make up for what happened in the first fight. It was enjoyable tonight. I was a little bit disappointed I couldn't finish it."
Geale now looks forward to future world-title unification bouts and hopes to bring some big fights to Australian shores. "We want the big hard fights now, we want to head overseas, we want to bring big fights to Australia," he said.
While disappointed with the result, Mundine was far more competitive than a lot of pundits predicted and proved he isn't quite the spent force some have made him out to be. At 37 years of age, and facing one of the busiest fighters in the world, Mundine did remarkably well to maintain the torrid pace set by Geale over 12 gruelling rounds.
For Mundine, a potential rematch with former rival Danny Green now looms, and a third bout between Geale and Mundine at some point in the future may also be a possibility. The only disappointment on a huge night for Indigenous sport was Mundine's unsportsmanlike exit from the ring and the bad blood that will continue to simmer between the two fighters, but as they say in this most controversial and passionate of sports:  "That's boxing".