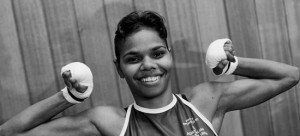 Boxer, artist and mother of four, Noby Clay can well remember her life before boxing.
Living in the North Queensland community of Palm Island, just off the coast of the city of Townsville, Noby says she was drinking too much and getting into strife with the police, but after taking an interest in the sport of boxing – her life took a sharp turn for the better.
"I was 18 when I went down to the gym, but you couldn't really call it a gym, it was just a tin shed on the side of the old club house," recollects Noby.
"My little brother was doing boxing at the time, and funnily enough I was chasing up my baby's father who was boxing there as well … while I was there I saw trainer Ray Dennis putting some of the younger boys through the pads, and I said, 'Hey Ray, can I have a go?' Six weeks later I had my first fight."
And how did she go in that first fight?
"I got knocked on my butt," she laughs.
"The girl I fought was a good friend of mine and she was training at that time – she was 14. We've had three fights since I started boxing."
Since her first bout almost 10 years ago, Noby has fought all over Queensland, proving herself to be among Australia's top female boxers. She is also a talented artist who is passionate about promoting Palm Island art and culture – and has just completed a national tour with Palm Islander elders.
Noby says stepping into the ring was a natural progression given her family history.
"Well I think I'm in the right sport because my father was a world ranked boxer, my grandfathers Freddy Clay and Alfie Clay were boxers, all my uncles boxed, my brothers did boxing and my cousins, one of my aunties did boxing and all the women in my family are strong women," she says.
Noby believes that through boxing she was able to improve her self esteem and confidence, and then there's also the health and fitness benefits that come with disciplined training and the good eating habits the sport demands.
"It teaches you self respect and discipline," says Noby. "Not only that, the younger people get to go away and come to know there's more than just Palm Island and Townsville. For example, through boxing I've been to Sydney, Tasmania and Melbourne."
Today, Noby is an outgoing and confident woman who has ambitions of representing Australia at the Commonwealth and Olympic Games, and she is adamant that we will soon see a world-boxing champion emerge from Palm Island.
While she may not have a title to her name yet, clearly Palm Island has already produced a unique champion and inspiration of its own, by the name of Noby Clay.