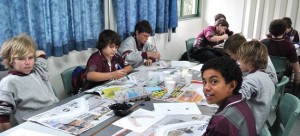 Peter Hoehn, a teacher at Tullawong state high school says, "in order to get to where you want to go in life you need clear goals." The school runs an innovative program in indigenous leadership, health and cultural awareness that is making a real difference in students' lives.
Tullawong State High School, in Caboolture, is a hub school in Southern Queensland that has affiliations with Caboolture High, Morayfield High, Bribie State High and other regional schools.
The school has about 1250 students, of which about 70 are Indigenous. It runs a leadership program for Indigenous students and Peter says a big part of the success of this program is setting clear goals.
"The students need to know where they want to go. They need to have a target to aspire to in the future to fulfil some of their dreams. If they don't have that there is no way they can begin to set themselves any goals," he says.
"We want to make sure they have an idea about the future and what it might be like. We then make sure they are choosing the right subjects to get them where they want to go."
Peter says getting the students to write down their goals can help them stay on track to achieve them.
"The kids develop plans with a teacher – like what subjects they need to do and what do they want to give back to the community.‌
Goals are then set – day to day stuff – so they agree to attend school over 90 percent of the time, or access tutorial support if they are having difficulty with a subject. They might also have to turn up to all leadership meetings and be engaged in the classroom."
Peter says role models and culture are an important part of the mix.
"We intertwine culture and education in the Leadership Program. We want to create an environment where the kids want to come to school and participate and where they are encouraged by their families to continue their education. The Elders are also involved with helping the kids," he says.
One of the ways the school has involved the local Indigenous community is including them in helping to build The Bush Tucker Garden as well as undertaking cultural excursions to local Sacred Sites.
Elders have also written stories about the area – its history, traditions, boundaries and groups that existed in the area, which has been turned into a handbook for school staff.
The school has also dedicated a space called the Wandi Room and Yarning Circle built by the Elders, parents and students.
"We have an environment of trust here and the kids are open and honest with me about what barriers they may face. If family is not working out for them at home the community can help out – some of the kids may not have money for uniforms or books or the resources they need to learn," Peter says.
"This is not tokenistic support – we have a real goal and vision and these are minor barriers – so let's get over that and get down to the business of what we're for – which is for them to get an education and be the best they can be."
He says the school also runs a health program that screens for auditory or vision problems.
"We did vision testing for about 160 kids and one third had vision difficulties that were picked up. It is also about encouraging the family to go through immunisation programs and health checks."