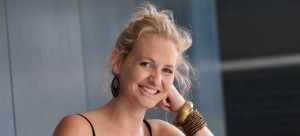 Kyly Mills is a young Aboriginal student who is passionate about improving the health outcomes for Indigenous communities. This desire has led Kylie to pursuing a career in the public health sector, with a focus on Indigenous women.
A Kamilaroi woman whose family originated in the Moree area, Kyly is a third year Bachelor of Health Sciences student and has just completed a summer vacation placement as research assistant for Professor Bronwyn Fredericks from QUT's Institute of Health and Biomedical Innovation (IHBI) after being awarded a Vacation Research Experience Scholarship.
Kyly's work in the area of Indigenous health has also earned her an Indigenous cadetship with Queensland Health.
"The experience has made all the difference to my studies and it's something that I have become even more aware of since starting back at uni this year," says Kylie.
"The biggest outcome working with Professor Fredericks was helping to organise the North Brisbane Indigenous Women's Wellness Summit as well as co-authoring a number of papers and articles.
"The scholarship initially covered 180 hours of work as a research assistant, but I managed to complete that fairly quickly and have since been employed in the role.
"To be an undergrad and have my name on so many papers already has been such an achievement."
Kyle says the work she has completed since being awarded the scholarship and the subsequent Indigenous internship has been an "amazing learning curve" which has helped her to focus on her career aspirations.
"Giving up my summer holidays to do this work, which has such a strong focus on Indigenous women, has really opened my mind to what needs to be done and made me such a better person.
"It's a big task, but something I'm really looking forward to working on."
Visit QUT's scholarship page for more information on the Vacation Research Experience Scholarship.