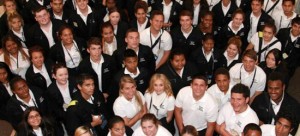 Ninety nine Indigenous students from across Australia converged on Canberra for one week during September to participate in the 2012 Learn Earn Legend! Work exposure with government program, now in its third year.
The senior students ranging in age from 16 to 18 years were selected through an expression of interest process at their schools.  The program provided an insight into the Australian Parliament and the pathways in the Australian Public Service available to young Indigenous people wishing to pursue a career in government.
The students' experience started with a welcome morning tea at Parliament House hosted by Minister Julie Collins MP, and attended by Minister Peter Garrett and other Members of Parliament. Later that day, the students observed Question Time and were warmly welcomed by Deputy Speaker Anna Bourke, who said she looked forward to seeing one of the students as a member of parliament in the near future.
As the week continued, the students participated in a range of work experience activities in the offices of Parliamentarians at Parliament House and in various Commonwealth departments and agencies around Canberra.
The students also received information about careers and the Australian Public Service (APS) Indigenous Pathways Program via a panel session and mini APS careers expo.
As this was the first time in Canberra for many of the students, time was scheduled for a range of cultural activities including tours of the National Museum and the Australian War Memorial.
Learn Earn Legend! Ambassadors, tennis legend Evonne Goolagong-Cawley, and rugby league star Scott Prince addressed the students at a dinner at the Australian Institute of Sport.
Yarran Morrison, from Grafton High School in NSW said his participation in the program had shown him that  "no matter what sort of background you come from, whatever your dream is, you can achieve it."