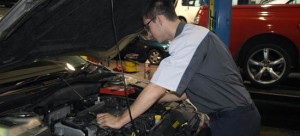 More school-based automotive apprenticeships will be on offer this year for Aboriginal and Torres Strait Islanders thanks to a partnership between the Aboriginal Employment Strategy (AES) and K-Mart Tyre and Auto Services (KTAS).
The partnership will develop 14 school based automotive apprenticeships across NSW, Queensland, Victoria, Northern Territory and Western Australia.
The AES is an Indigenous managed, not-for-profit recruitment company that provides industry skill shortage training to Indigenous career seekers to increase their employability and develop meaningful career pathways. Deadly Vibe spoke to the AES General Manager for their Career Preparatory Program, Kamilaroi man Gavin Mate.
"With KTAS, we scoped a career pathway where students in Years 11 and 12 stay at school but complete Certificate III in Automotive Mechanical Technology  (Light Vehicles)," Gavin says.
"They spend one day in the workplace and half a day training at a Registered Training Organisation for the theory component which they undertake over two years. Upon completion of their schooling, training and work placements they are recognised with the qualification of first year automotive. They'll then be employed by KTAS to finish the rest of their apprenticeship."
AES will pre-screen the applicants for the school-based apprenticeships through an in-school and online process. Formal applications from students (with the support of their parents) are required.
"We will go into schools and conduct interviews with applicants. We look for how students are faring at school and their participation in school, at their reports, and for sound performance in maths and English. We'll also look at absenteeism, and we'll talk to teachers and look for the school's support for the student. Importantly, applicants should have engaged parents or guardians," Gavin says.
The AES vision is a career opportunity for every Indigenous Australian and its mission is to create those Indigenous career opportunities. They specialise in finding Indigenous people a career that is right for their skills; and then mentor and support participants once they are in employment.
"We have a recruitment side of the business, a career preparedness program and we partner with organisations to offer school based apprenticeships," Gavin says.
"Our organisation started in Moree and came out of the Black Deaths in Custody Report recommendation that there is a link between offending and having a job – that employment can reduce offending."
"We've expanded from finding jobs for 10 people in the Moree region in our first year to placing 1800 Indigenous career seekers into employment (300 trainees/apprentices and 1500 directly into jobs) since AES began.
"We've been successful because we are an Indigenous managed organisation that employs all Indigenous local team members on the ground who know their communities. The other element of our success is that we are a voluntary model – career seekers aren't compelled to come to us. They come to us seeking a career and employment and that's where we step in."
Gavin believes young people at school benefit from expressing their dreams and putting their career choices forward. "They shouldn't be shy about speaking out about their aspirations – put three or four dreams on the table and look at the skills they have in those areas."
The school-based apprenticeships begin in February 2012.
KTAS Human Resources General Manager, Tony Hofman, says the partnership between AES and KTAS is an exciting opportunity.
"We see this partnership as an integral step toward developing a more diverse workplace by increasing the representation of Indigenous Australians among our staff beyond our current level of 3%," he says.